This post is a curated collection of some of my favorite bars and restaurants in downtown Charleston SC that I've frequented ever since I was a student at The College of Charleston. While a lot of them are well-known spots here in #Chucktown, some of them are hidden gems & dive bars that locals love, but most tourists don't know about.   
 I created this list more than 5 years ago, so it doesn't include some of the newest bars and restaurants in downtown Charleston SC, but it definitely has the classics or the #OG's as I like to say.  Scattered throughout the downtown peninsula on King Street, Upper King Street, the downtown historic district, and even above "crosstown," the bars and restaurants on this list have remained a staple to myself and many Charleston locals for 5+ years (at least!)  
17 BARS AND RESTAURANTS IN DOWNTOWN CHARLESTON SC THAT LOCALS SWEAR BY
 Be sure to check out my>> Ultimate Guide to the Top Charleston SC Beaches<< to learn about some of the best places to eat in Folly Beach SC, Sullivans Island, and Isle of Palms.  If you're in downtown Charleston SC and you want to kick it like a local, check out some of the following bars and restaurants located near historic downtown, Upper King Street, The Charleston Market, and everywhere in between.
---
The Recovery Room Tavern 
http://www.recoveryroomtavern.com/

The first thing that comes to mind when you enter "The Rec Room," is "Dude it smells like throw up in here!"  However, this place is a favorite by Charleston locals, myself included. It has been voted best downtown bar, best late night bar, and best dive bar multiple times in the "Charleston Best Of" publication.  Rec Room is slightly detached from where all of the action is on King Street. There's about a quarter mile of nothingness and overpasses you have to walk through to get there, which acts as a filter weeding out unwanted tourists.  Everyone there seems to know each other, so there's a friendly high energy, but also super chill vibe at the same time. You can throw some songs on the jukebox, and play foosball, while eating "tater tachos" (tater tot nachos,) and drinking $2 PBR's. 
---
Taco Boy Charleston
Taco Boy is the SPOT for margs and tacos! "Skip siesta let's fiesta," is their motto.  There are two locations, one is downtown and one is on Folly Beach.

Somethin' about being on the beach all day just makes me crave margaritas. Maybe all that salt from the ocean gets to my head, but definitely not as much as the tequila… 

So keep the beach party going, grab some nice salty nachos, or fish tacos, and a pineapple-infused margarita, and see how much longer you can fiesta before the inevitable siesta...  
---
AC's Bar and Grill 
For a long time in my college days, I was baffled by the fact that AC's was the designated last call spot for all of our homies.  Of all places on King St. why would everyone willingly choose to go to the divey-ist, grungiest bar that blared punk rock music, and was always super crowded? 

Then, as I got older I realized that I LOVE AC's for that very reason... In a town that gets overrun by tourists and yuppies every weekend, AC's was the last place that held onto some thread of familiarity.

It's packed with people you know, and you won't get judged even if you're trashed and dancing on the tabletop. The bartenders work hard and pour strong. They keep it rill' chill with no-frill. "AC's last call!?" Duh...     
---
Henry's Charleston
Henry's is the best and most diverse bar on the market.  Downstairs is more of a low key pub vibe with a bar, and a kitchen pumping out Lowcountry cuisine.  Then just up the stairs is a lounge with a whiskey bar, velvet couches, and live music that's unique. 

If you really want to get your groove on you can head to the back patio which is attached to Club Envy, which always has a DJ bumpin' party music on the weekends.  It can be touristy and guido-ish like all clubs in Charleston, but locals still come here to have a good time as well.

If you do happen to find an acceptable boo that you want to have a conversation with over all of the ruckus, you can always head outside to the double-decker rooftop patio.
---
Royal American Charleston SC
 http://theroyalamerican.com/

I do feel like royalty every time I bite into their mouth watering Patty Melt.  I also felt very American the last time I ate there too because I ordered not one, but two of them… It was THAT good.  You also have to try their their home made beef jerky and cinnamon whiskey. This place gets pretty rowdy on the weekends and usually has live music a few nights throughout  the week.  
---
Blind Tiger Charleston
 http://www.blindtigercharleston.com/

Blind Tiger used to be a speakeasy back in the day, and still has it's original outdoor patio in the back, which is super chill and a fun place to grab some dinner and drinks before you head to Upper King for the late night.  Drop in on a Tuesday after 5:00 pm and try one of their scrumptious angus burgers and a bottle of wine for half off.  
---
The Vendue Charleston
 http://thevendue.com/restaurants/the-rooftop/

AKA Rooftop Bar at The Vendue Inn near the Charleston Market & The Waterfront Park, it was voted Charleston's best rooftop bar since 2007,  come here to enjoy killer panoramic views of the Charleston Harbor, Waterfront Park, and the Arthur Ravenel Bridge. This is a great place to bring your out of town friends if you want to show off the city while sipping on a Strawberry Basil Lemonade cocktail.  You'll find a mix of locals and tourists here, and most evenings they have accoustic live music. Come early though, otherwise you may have to wait in line, and it shuts down by 10 on weekdays, and 12 on weekends.    
---
Moes Crosstown 
http://www.moescrosstowntavern.com/specials.php

This dive bar has been voted best pub food for the last 8 years. Its a well known local watering hole where you can play pool and watch sports. It's nice and dark, there are no windows , so it's a good place to hide in the shadows when  you're hungover and stuff your face with a juicy burger or some saucy wings. You can easily get sucked in there all day, and you'll be taken aback when you stumble out the door and realize it's still bright as shit outside. They have $2 Miller High Life and $3 Bourbon all the time. 
---
Salty Mike's Charleston
 http://www.yelp.com/biz/salty-mikes-deck-bar-charleston

This is on the west side of the peninsula, overlooking the Ashley River and right next to the Charleston City Marina so you get a good mix of locals, sailors, yachties, and boaters who come to kick it in a relaxed atmosphere.  This is a great place to come during happy hour, play pool, get $2 domestics beers, and it's by far one of the best places downtown to watch the sunset. Happy hour is Monday - Saturday from 4-7, and they have live music every Wed- Sat. until 9 pm.  Come early, it typically shuts down around 11.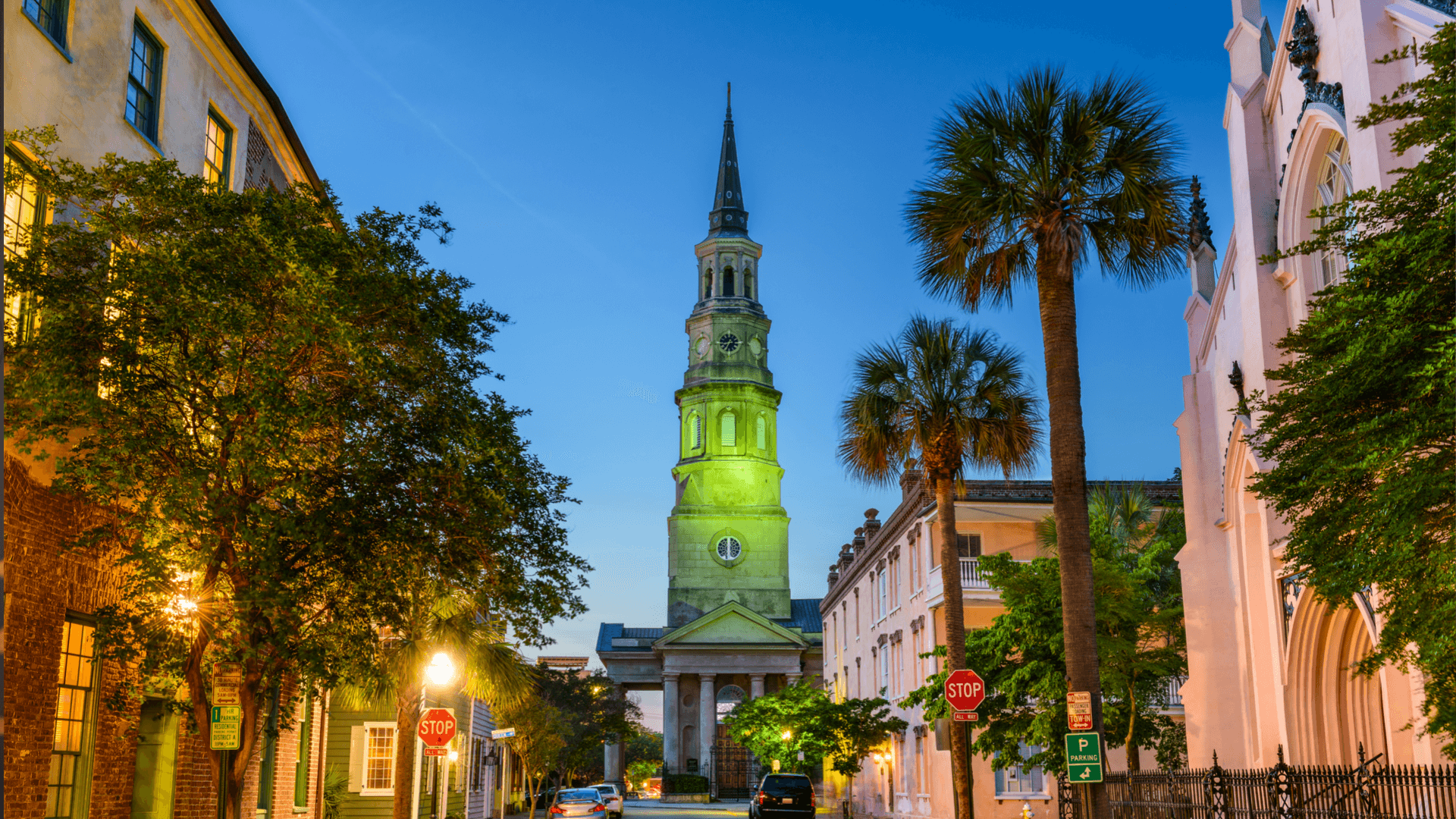 ---
Xiao Bao Biscuit 
http://xiaobaobiscuit.com/

Asian soul food at it's finest, this is the first place I bring friends who are visiting from out of town for dinner. It's better to come here with a small group of people, and share a bunch of dishes. Everything I've tried there is bursting with flavor, and all of the cocktails seem to go down like candy. My favorite dish is the Okonomiyaki, which is a Japanese cabbage pancake.  For $4 more you can add bacon, fried egg, and pork candy on top. Pork candy… lawd have mercy! The cocktail I always choose is the Borneo Sunrise- white rum, orange flower water, pomegranate molasses, and fresh-pressed juice. So good! 
---
Butcher & Bee Charleston
 http://butcherandbee.com/

This is the best place to get gourmet quality late-night food on the weekends.  Although it's usually packed, you can BYOB anytime while you wait for your food, (they don't serve alcohol.)  Their menu changes daily, but you can always expect whatever you order to be made with great quality local ingredients.
---
Tattooed Moose
 http://www.tattooedmoose.com/home.html

A cozy bar with a giant moose head on the wall, a great beer selection, and the several dishes made with fried duck, and duck fat.  Their signature sandwich is Mike's Famous Duck Club, which is a triple-decker filled with duck confit, applewood smoked bacon, and hickory smoked cheddar topped with garlic aioli, lettuce, tomato, and red onion on sweet Hawaiian bread. They serve food every day til 1:00 am.  Tuesday is music and craft beer night, with local, regional, and national acts, and all craft beers are $1.00 off all night.   
---
5 Loaves Cafe
This is the place you come to on a Monday after you feel guilty for splurging so much during the weekend.  It's a quaint little cafe with a "healthy, sustainable, and responsible" menu. Their soups are the jam, and every day they have 5 different ones to choose from.  You can also pair it up with a salad or ½ sandwich. It's one of my favorite lunch spots, and also nice to go on Wed. and Saturday's for half-priced bottles of wine. 
---
Trio Night Club Charleston
Trio Nightclub is definitely on the list for one of the best clubs to go to in Charleston if you're looking for somewhere to cut rugs.  They have multiple dance floors, a large outdoor patio, and lots of options for private parties and VIP. Your chances of getting lucky are good with all of the bachelor and bachelorette parties who flock here.  You can usually find a combination of hip hop, pop, and live music on any given night.  
---
Home Team BBQ
These days whenever I get a hankering for good ole' southern BBQ there's no longer a question about where I'm going to go.  Just the thought of "BBQ" projects images in my brain of dry-rubbed BBQ wings, pulled pork, mac n cheese, and of course the Home Team logo and building pops into my head, and there's no turning back.  Besides mouthwatering food, HomeTeam provides a great atmosphere and of course drink selection. If you really feel like shaking things up try their frozen alcoholic drink "The Game Changer" which is nice to sip on during those hot summer days, just try not to get brain freeze. They currently have a spot on Sullivan's Island, and in West Ashley, but the downtown location will be opening soon and it will be a glorious day. 
---
Bay Street Biergarten 
http://baystreetbiergarten.com/

"Bavarian-inspired, southern made."  A great place to kick it indoors or outdoors.  Great food, great beer, and you can even get a table with a built-in tap so that you get it all to yourself.  
---
 The Alley Charleston
 http://thealleycharleston.com/

If you want to act like a kid again, go to the alley.  This place is a bowling alley, arcade, sports bar, and restaurant all rolled into one. It's spacious, colorful, they play good party music, and there's enough entertainment for even the most A-D-D of your friends to stay occupied.  
In another post, I'll make a list of the latest and greatest places in Charleston to eat and drink for large groups, bachelor & bachelorette parties, but I had to give a shout out to the classic hotspots, bars, and restaurants in downtown Charleston SC that locals swear by.  If you're travlling to Charleston SC with a large group of friends for a Charleston Bachelorette or Bachelor Party, check out my post about the  Top Things To Do in Charleston in 2020