31 UNCONVENTIONAL THINGS TO DO IN CHARLESTON SC THAT AREN'T LAME...
FREE DOWNLOAD: CHARLESTON BACHELORETTE PARTY SCAVENGER HUNT & PHOTO CHALLENGE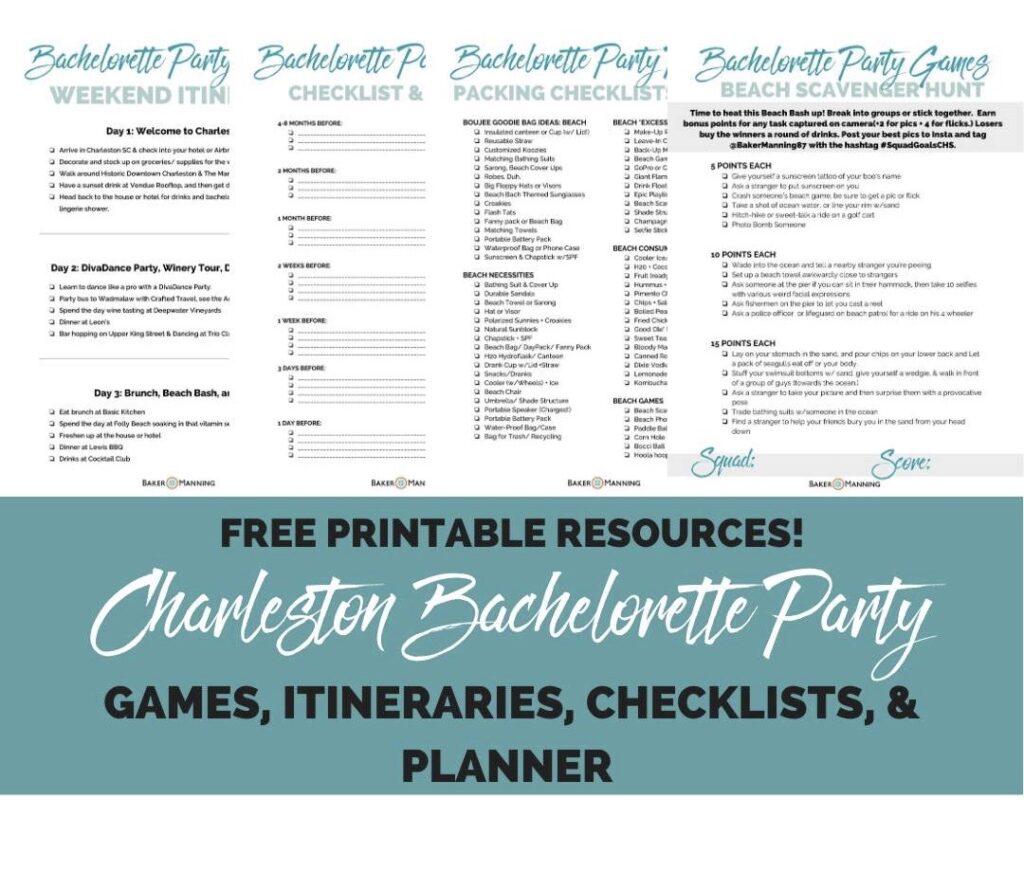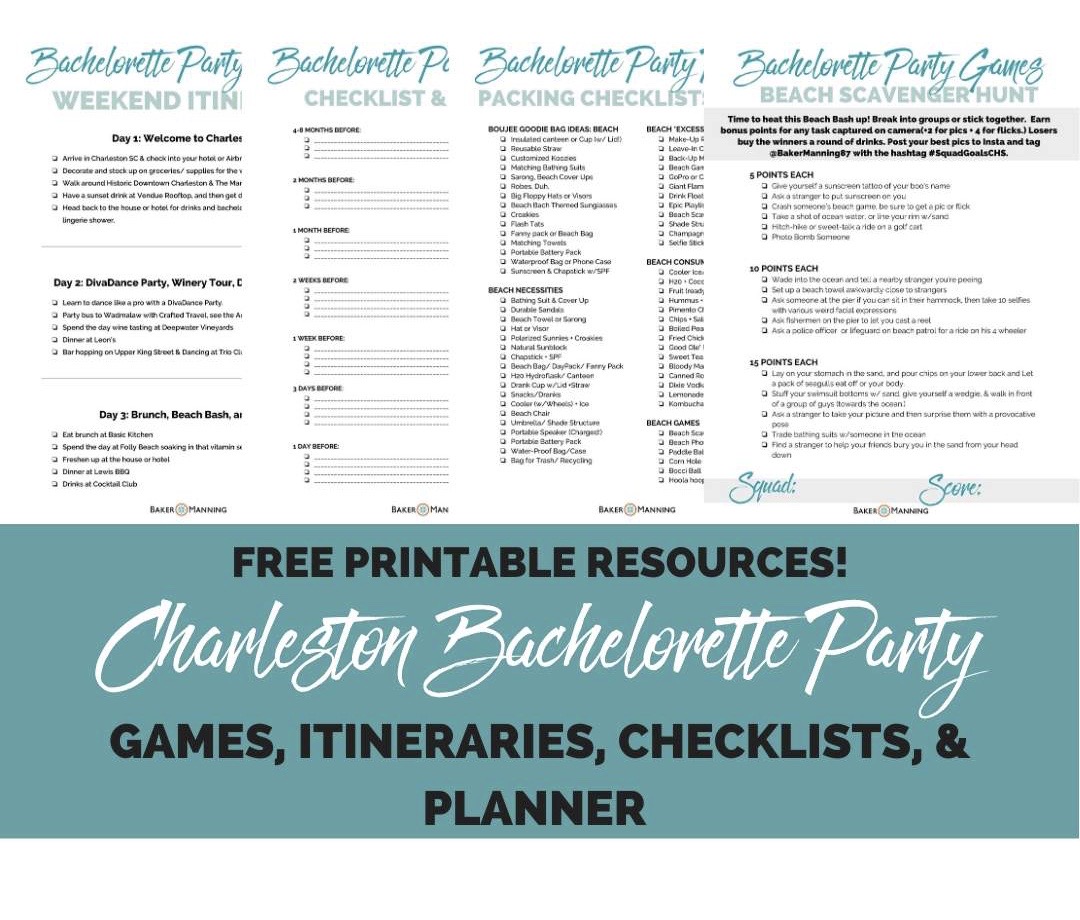 THE PERFECT DOWNTOWN CHARLESTON BACHELORETTE PARTY ITINERARY
Day 1: Welcome to Charleston!
Arrive in Charleston SC & check into your hotel or AirBNB.

Decorate and stock up on groceries/ supplies for the weekend.

Walk around Historic Downtown Charleston & The Market.

Have a sunset drink at Vendue Rooftop, and then get dinner at Poogan's Porch

.

Head back to the house or hotel for drinks and bachelorette party games and a lingerie shower.
Day 2: DivaDance Party, Winery/Distillery Tour, Dinner and Dancing on King Street
Learn to dance like a pro with a DivaDance Party.

Party bus to Wadmalaw with Crafted Travel, see the Angel Oak Tree on the way.

Spend the day wine tasting at Deepwater Vineyards & liquor tasting at Firefly Distillery (a 40-minute drive from downtown.)

Dinner at Leon's.

B

ar hopping on

Upper King Street & Dancing at Trio Club
Day 3:  Brunch, Beach Day, and BBQ
Eat brunch at Basic Kitchen  

Spend the day at Folly Beach soaking in that vitamin sea!

Freshen up at the house or hotel 

Dinner at Lewis BBQ

Drinks at Cocktail Club
THE PERFECT FOLLY BEACH SC BACHELORETTE PARTY ITINERARY TEMPLATE
CHARLESTON BACHELORETTE WEEKEND ITINERARY OPTION 2: FOLLY BEACH SC
Wake up late, have a light snack for breakfast, get your beach gear ready!

Turn your crew into a dance squad with a DivaDance Party!  We'll teach you fun, sexy, easy-to-learn choreography at one of our many studios:

Downtown

James Island/ Folly Beach

OR on the beach or private island, or even your vacation rental 

Treat yo'self to a well-deserved brunch at Rita's

Mozy to the boat landing on the Folly River for your boat charter

OR stand up paddle/ kayaking adventure.

Booze Cruise it up, and then make your way to THE BEACH!

Grab a margarita & some AC from Taco Boy on the way.

Post up at The Tides Hotel/ Blu- the only oceanfront bar on Folly Beach (except the pier...) 

Enjoy music & dancing at Blu,  & then head over to Wiki Wiki for sunset and food.
Explore Charleston's nightlife >> Chico Feo >> Surf Bar >> Snapper Jacks


---
FOLLY BEACH SC TOP THINGS TO DO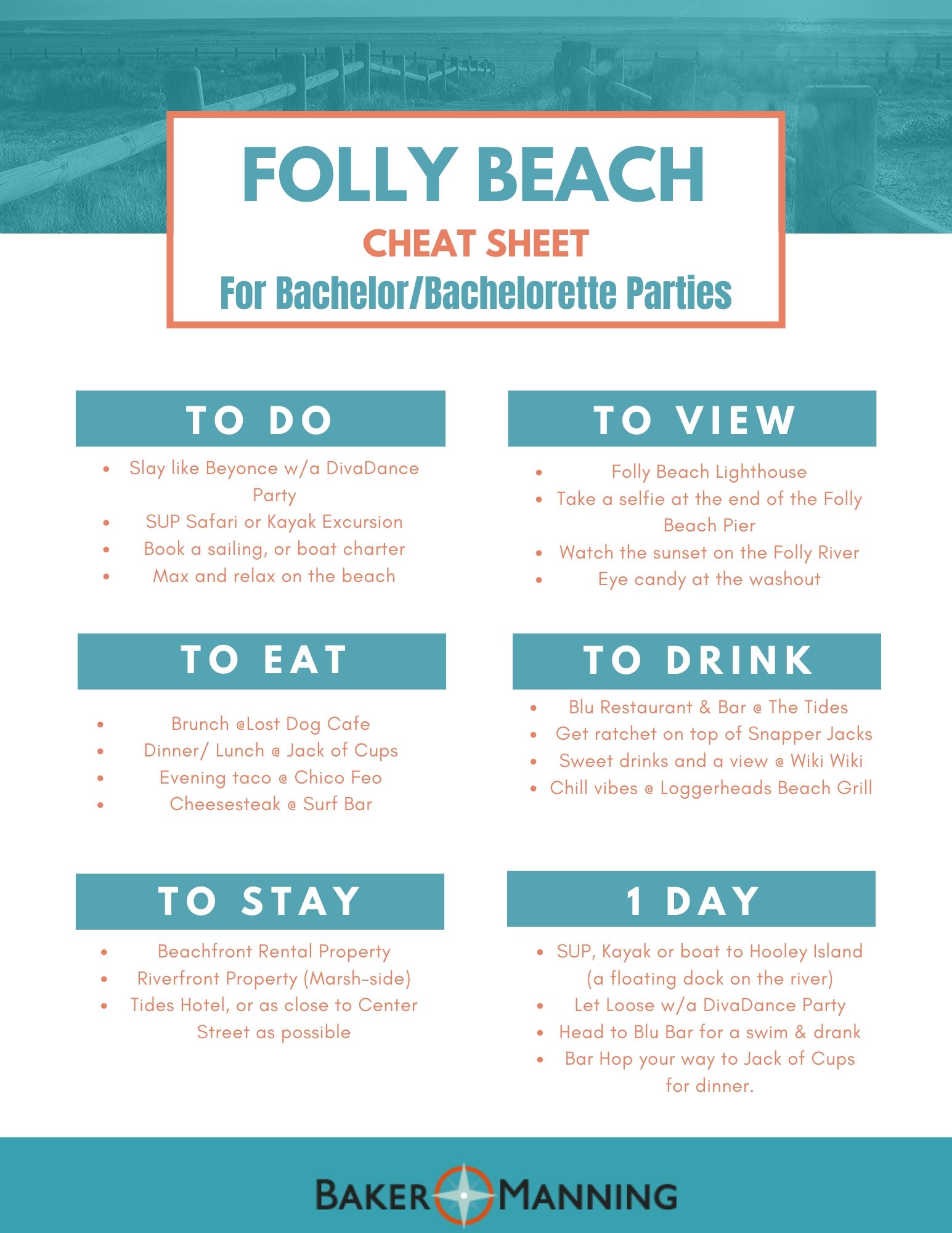 BACHELORETTE PARTY SCAVENGER HUNT: FOLLY BEACH SC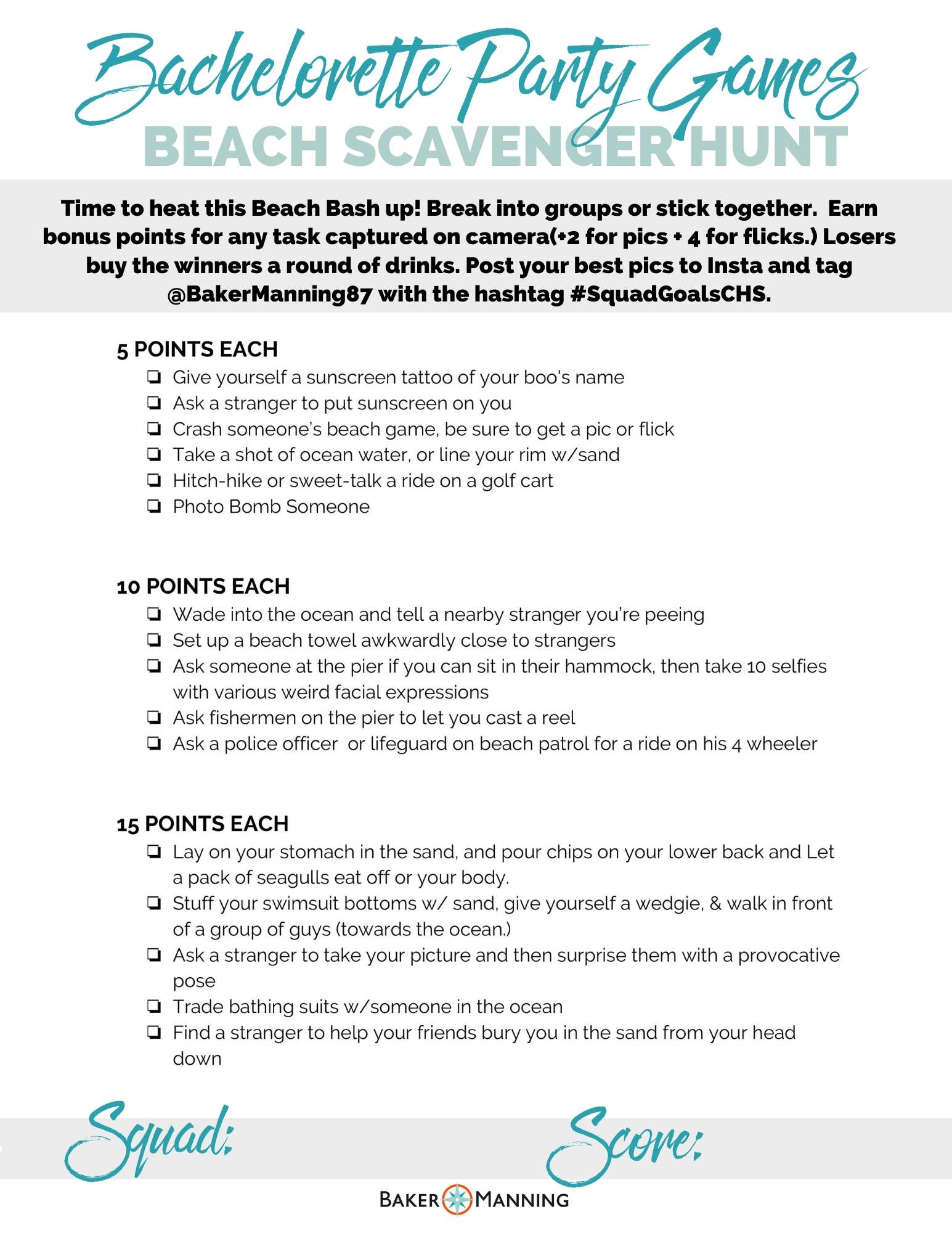 BACHELORETTE PARTY PHOTO CHALLENGE: DOWNTOWN CHARLESTON SC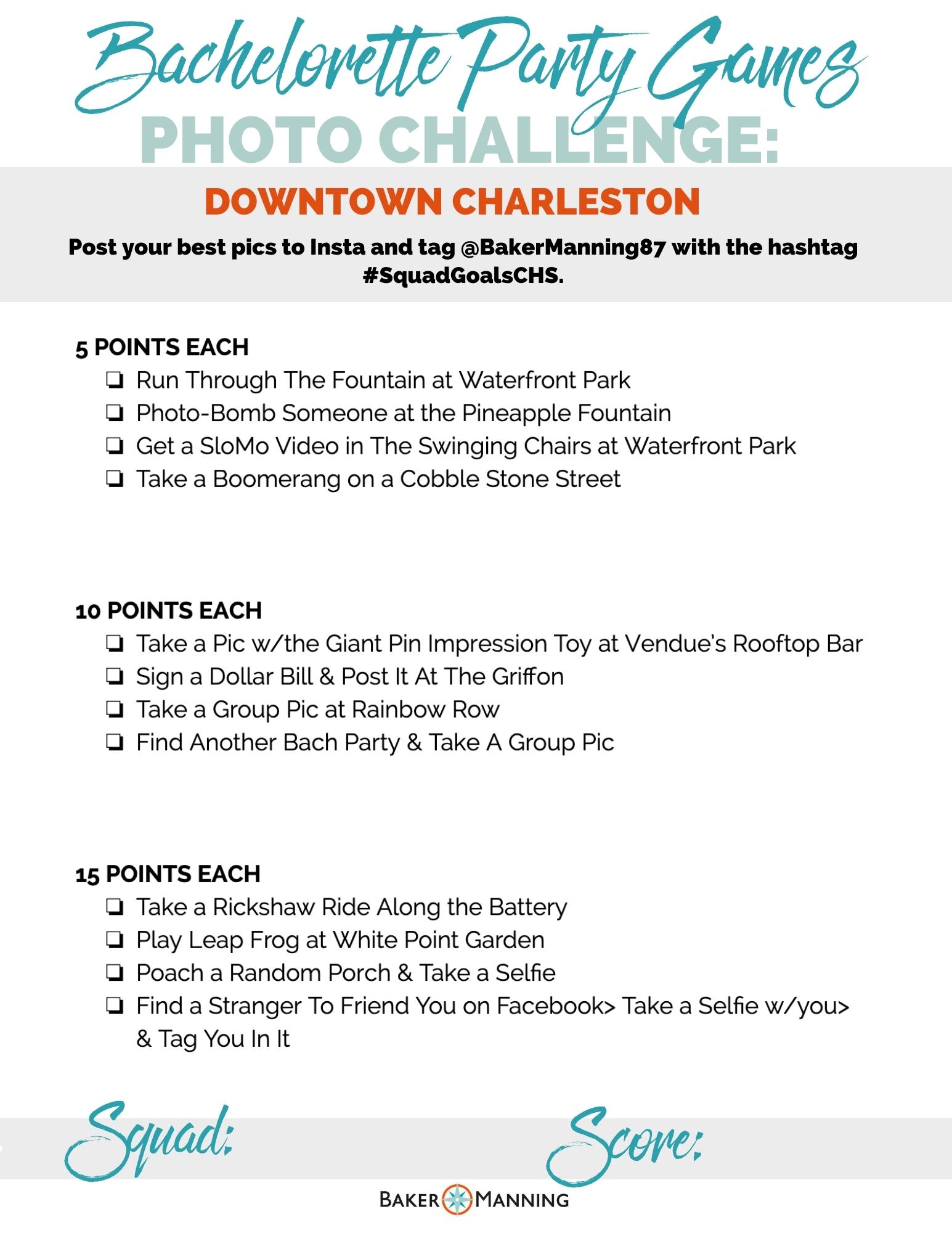 CHARLESTON BACHELORETTE PARTY IDEAS & THEMES
1. Beyonce Themed Bachelorette Party 
Calling all FEY-ONCES!  As seen in People, InStyle, USA Today, Refinery 29, and PopSugar!  Turn your 'maids into a SQUAD with our epic  DivaDance Party Experience! You'll get IN FORMATION as you learn fun, all-levels choreography to your choice of songs from Bey to Britney to Biebs!
2. Tropical Themed Bachelorette Party
Bust out the giant flamingo float & the pineapple sunglasses and get ready to #TropicLikeItsHot!  A tropical-themed bachelorette party is very fitting here in Charleston SC, because a pineapple is also the symbol for hospitality, and if you don't know about Southern Hospitality, you'll find out soon enough! 
3. Let's Get Nauti: Nautical Themed Bachelorette Party
Charleston, SC is surrounded by pristine beaches and countless tidal rivers & creeks… that's alotta' watah! Not to mention a great opportunity for the #BrideToBe and all of her #MatesOfHonor to get  #Nauti and #ShipFaced for her #LastSailBeforeTheVeil 
CHARLESTON BACHELORETTE PARTY HASHTAGS
#bachelorette #bacheloretteparty #bachelorettes #charlestonbachelorette #charleston #charlestonsc #summerbachelorette #summertime #bachweekend #bachbash #finalflamingle #finalfiesta #bride #bridetobe #engaged #bridetribe #bridesquad #teambride #bridesmaids #bacheloretteweekend #idocrew #bacheloretteideas #weddinginspo #girlstrip #girlsweekend #ladiesnight #bridalparty #shesaidyes