Folly Beach South Carolina is a beautiful barrier island in the United States off the coast of Charleston.
---
Welcome to Folly Beach, South Carolina in the United States
Welcome to Folly Beach, South Carolina, where sun, sand, and surf await you. Known as the "Edge of America," this charming coastal town offers a perfect getaway for beach lovers and adventure seekers alike.
With its white sandy beaches, picturesque landscapes, and warm ocean waters, Folly Beach is an excellent destination for those seeking a relaxing getaway or adventure-filled vacation.
Folly Beach SC United States: Things To Do
Top Things to Do In Folly Beach SC
Whether you're looking to catch some waves, build sandcastles, or simply soak up the sun, Folly Beach has it all. 
With its gentle waves and consistent surf conditions, it's no wonder that this beach has become a popular destination for surfers of all skill levels.
If surfing isn't your thing, don't worry – you can still enjoy a peaceful stroll along the beach, watch dolphins frolic in the water, or try your hand at fishing off the Folly Beach Pier.

When you've had your fill of the sand and sea, Folly Beach offers plenty of other activities to keep you entertained.

Explore the charming center street area, packed with eclectic shops, and laid-back restaurants and bars.

Embark on a kayak or paddleboard adventure through the serene Folly River, or take a sunset boat tour to witness nature's spectacular display.
---
What activities are popular at Folly Beach?
Visitors to Folly Beach can enjoy swimming in the Atlantic Ocean, fishing in the nearby creeks, sunbathing on the beach, and exploring the unique shops and restaurants in the area.
Swimming and Sunbathing on Folly Beach
One of the main attractions of Folly Beach is its pristine sandy beaches. With miles of coastline, there is plenty of space for visitors to spread out and enjoy a day of sunbathing and swimming. The beach is known for its gentle waves, making it a popular spot for families and beginner surfers. Lifeguards are also on duty during peak times, ensuring the safety of beachgoers.
Fishing in the Creeks
For those who enjoy fishing, Folly Beach offers excellent opportunities. The nearby creeks are teeming with a variety of fish, including redfish, trout, and flounder. Visitors can bring their own fishing gear or rent equipment from local bait and tackle shops. Whether you prefer fishing from a boat or casting a line from the shore, Folly Beach is a paradise for anglers of all skill levels.
Exploring the Surf Shops and Restaurants
In addition to its natural beauty, Folly Beach is also home to a vibrant community of artists, musicians, and entrepreneurs. Visitors can explore the unique shops and boutiques in the area, where they can find handmade jewelry, local artwork, and one-of-a-kind souvenirs. The island is also known for its beach lifestyle, with many restaurants serving up fresh catches from the nearby waters. From casual beachside eateries to upscale dining establishments, Folly Beach has something for everyone's taste buds.
Activities and Attractions near Folly Beach
While Folly Island offers plenty of activities and attractions, there are also many options for exploring the surrounding area. One popular activity is taking a boat tour to see the local wildlife, including dolphins, sea turtles, and pelicans. Kayaking and paddleboarding are also popular options for those looking to get out on the water and explore the marshes and creeks. For history buffs, a visit to nearby Downtown Charleston is a must. With its rich history and charming architecture, Charleston County offers a glimpse into the past and is home to many museums and historic sites.
---
Experience the Best Activities for Bachelorette Parties on Folly Beach
DivaDance Parties Charleston:

DivaDance Parties offer a unique and unforgettable dance party experience. Get ready to unleash your inner diva and have a blast with friends while learning some killer dance moves.

Enjoy a beach day:

Folly Beach is known for its beautiful sandy shores and crystal-clear waters. Spend a day lounging on the beach, soaking up the sun, and enjoying the ocean breeze. Bring along some beach games, like volleyball or cornhole, to add some fun to your day.

Take a surf lesson:

If you're looking for some adventure, why not try your hand at surfing? Folly Beach is a great place for beginners to learn how to surf, with several surf schools offering lessons. It's a fun and unique activity that will create lasting memories for the bride-to-be and her friends.

Go on a sunset cruise:

Treat the bride-to-be to a memorable sunset cruise along the coast of Folly Beach. Enjoy a relaxing boat ride, take in the beautiful views, and toast to the upcoming wedding. Many sunset cruises also offer drinks and snacks on board, making it a perfect way to unwind and celebrate.
---
So, whether you're seeking relaxation or adventure, Folly Beach is the ultimate destination for sun, sand, and surf. Get ready to dive into the beauty and excitement that this coastal gem has to offer.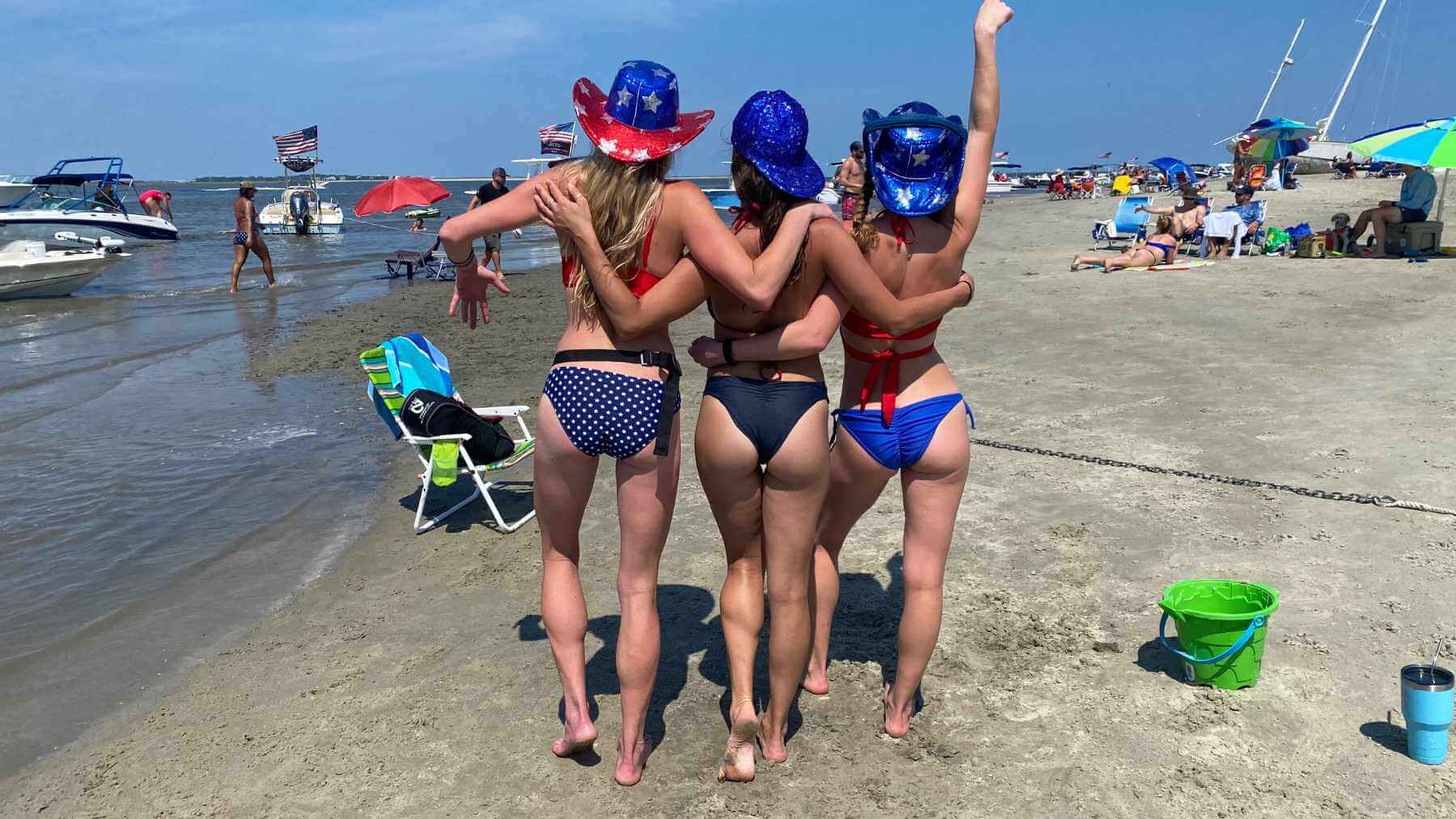 Conclusion
In conclusion, Folly Beach in South Carolina, United States, is a coastal paradise that offers a perfect escape for beachgoers looking for a getaway. With its picturesque coastline, family-friendly atmosphere, pet-friendly areas, and excellent surfing conditions, Folly Beach has something for everyone. Visitors can also enjoy a diverse range of dining options, comfortable accommodations, and engaging activities. Whether you're looking to relax on the beach, indulge in water sports, or explore nearby attractions, Folly Beach has it all. Don't miss out on experiencing this coastal gem!