I've been hosting Airbnb & VRBO Charleston SC  guests for several years now and wanted to share some of the most crucial tools & resources that I've discovered so far. They've saved me so much time, effort, & energy, and MADE me lot's of money in the past. If you've never heard of some of these, you should check them out! 
 If you'd like help setting up any of these accounts or your Airbnb & VRBO Charleston SC listings, let's connect! Feel free to contact me:   info@bakermanning.com.
---
6 CRUCIAL RESOURCES FOR AIRBNB & VRBO CHARLESTON SC HOSTS!
I've included links to all of the resources + free trials & discounts below. Some of the links are affiliate links meaning I may earn a small commission on them (at no extra cost to you.)  
---
HOSTFULLY
Hostfully is a digital guidebook platform that makes it easy to create and share custom online guidebooks across all your properties. The link you'll send to your guest will work on any device, no app to download. Digital and offline guidebooks up-level your professionalism and save you time. Provide travelers with property information and local recommendations, with a custom welcome message featuring your unique brand.
 I use it to send guests their check-in instructions + their unique keyless entry code so that the whole process is automated.  I've also included detailed instructions for things like how to work the TV, appliances, and other common issues and FAQ's.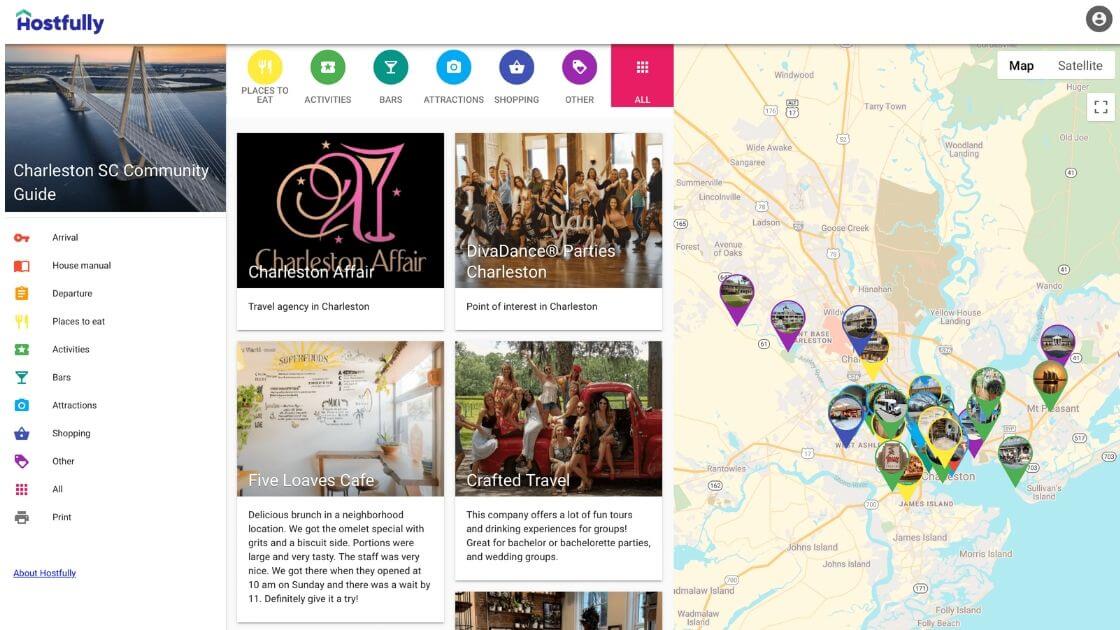 FREE RESOURCE! USE MY LOCAL CHARLESTON DIGITAL GUIDEBOOK AS YOUR OWN!
Share this link with all of your bookings & avoid answering the same questions over & over.  Contact me to get more free resources & message templates!
---
YOUR PORTER
Your Porter App is a property management application for Airbnb, VRBO, and Booking.com hosts and rental property managers.  It includes all of the tools you need in one single platform: automated messages, unified inbox, multi-calendar syncing, income reporting, website builder, payment processor, teammate management, and lots of other features. 
Thanks to Your Porter, my entire booking & hosting process is automated. When someone makes a booking, they will receive a series of automated messages prior to their arrival w/ welcome messages, check-in/checkout instructions, etc.  I can also share a link to my booking calendar with my cleaners so that they get alerted when they need to clean, even for last-minute bookings. 
YOUR PORTER APP DEMO VIDEO
GET A FREE TRIAL +$20 OFF YOUR PORTER MEMBERSHIP
Contact me if you need help w/setup or automated messaging!
---
BEYOND PRICING!
Beyond Pricing is an automated dynamic pricing solution for Airbnb and other vacation rental sites. This software syncs to all of my listings and constantly fluctuates my prices based on nearby competitors, market demand, and other seasonal factors.  
They utilize real-time market data to ensure their price recommendations and maximize revenue and occupancy for hosts. Their SaaS solution allows you to link your Airbnb listing, preview our year of recommended rates, and sync those prices directly to your Airbnb calendar.
---
1PASSWORD APP
This app is a lifesaver that I use at least 20+ times a day.  1Password is a password manager, digital vault, form filler, and secure digital wallet. 1Password remembers all your passwords for you to help keep account information safe.  It also syncs across all of your devices and has convenient keyboard shortcuts that make it easy to use. >>CLICK HERE<< To try it for free!
---
ARE YOU AN AIRBNB OR VRBO CHARLESTON SC HOST? DO YOU WANT TO BE!? 

LET'S CONNECT! 
I've hosted hundreds, (maybe thousands?) of guests for 3+ years, and dozens of local experiences.  Both have been extremely rewarding- and quite lucrative... I'd love to help you get started!

---
AMAZON PRIME MEMBERSHIP
I use Amazon Prime to order cleaning supplies and amenities we need for our guests.  The cleaners will alert me if we're getting low on certain items and I can easily replenish them with 2-day free delivery.  We also offer our guests access to our Amazon Prime Video account, which is loaded with great movies, TV series, and programs for kids. You can try it for free for 30 days.
---
AMAZON KEY APP
This app works in combination with my Schlage smart lock. I can lock/unlock my door, and program new door codes from anywhere, any time (as long as my Wifi is working properly.)  My guests are all able to self-check in with their own unique code that I program prior to arrival.  
I use Your Porter to send them an automated message that includes my Hostfully digital guidebook + their unique access code, so the entire process is automated.  The only thing I have to do is program their code remotely. I also have a physical lock box with a spare key hidden in the yard (just in case!)
---
If you have never looked into these resources you should check them out! They have saved me so much time, effort, & energy, and MADE me lot's of money in the past.   If you'd like help setting up any of these accounts feel free to connect with me - info@bakermanning.com.
---
RECOMMENDED PRODUCTS :AIRBNB & VRBO HOSTS!
WANT TO LEARN MORE ABOUT AIRBNB & VRBO CHARLESTON SC?