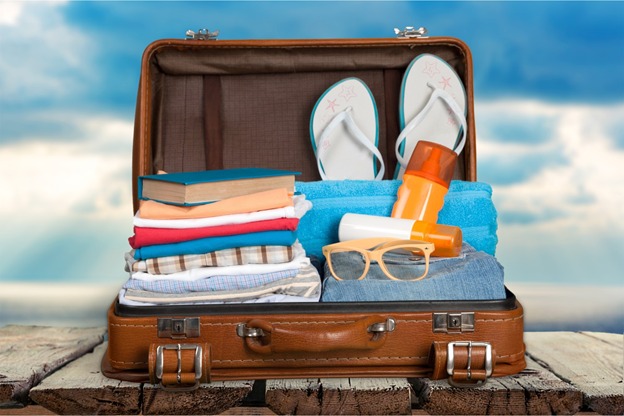 In this post I will go over several techniques including how to use packing cubes and other accessories to organize and maximize the space in your suitcase.  Fortunately these days there are various packing accessories, techniques, and strategies to help you do this.  Below is a list of packing hacks for anyone who is:
Going on a long trip & bringing multiple types of luggage and clothing.

Planning on participating in a diverse array of activities, from nightlife to extreme outdoor adventure.

 Going camping, to an outdoor music festival, or some other activity thats results in long term exposure to the elements.

Living in small spaces such as a boat, cruise ship, or RV.
HOW TO USE PACKING CUBES TO MAXIMIZE SPACE & ORGANIZE YOUR SUITCASE
CREATE CATEGORIES &
CHECKLISTS FOR DIFFERENT
TYPES OF LUGGAGE
Clothing

Undergarments

Accessories

Shoes

Toiletries

Electronics
I like to make a list of all of the different categories of luggage I know that I will need throughout my trip, and then decide which packing accessories to organize them with.

I usually bring one larger bag, one smaller bag such as a carry on or backpack, and then a personal bag for my essentials.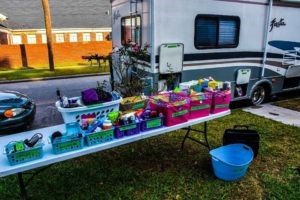 PACK SIMILAR LUGGAGE
TOGETHER
Personal Bag / Smaller Backpack :

Personal Items

Wallet

ID

Phone

Headphones

Travel Documents

Smaller Pack / Carry On (Water Proof is best)

Laptop / I pad

Photography Gear

Valuables

Electronics / Chargers

Water / Snacks

Rain Jacket

Sarong or Jacket

Larger Suitcase / Pack

Clothing

Toiletries

Accessories and Jewelry

Laundry / Shoe Bag

Footware / Outdoor Gear
My personal bag and my smaller pack never leave my side, I always bring them with me whether I'm on planes, trains, or automobiles. They contain all of the items I need for security and long travel days.

I bring all of my electronics with me so that I have something for entertainment while traveling, and also I don't want to risk them getting lost, damaged, or stolen.

Often times you will have to check your larger bag so I put clothing, toiletries, and other replaceable and less valuable items in that one.

It is convenient to have these items in the same bag also because you often need them together- you will shower, get ready, and get dressed.  You will only need to gather your stuff out of one bag rather than multiple different ones.

You often need toiletries in your checked bag anyway because you can't bring more than 3 oz's of liquids through security.
USE PACKING CUBES & ACCESSORIES
TO SEPARATE &
ORGANIZE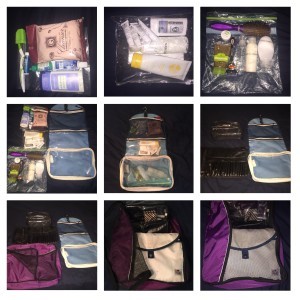 Clear / See Through

Expandable / Collapsible

Packable (?)

Hanging Capabilities

Packing Cubes

Clothing & Accessories

Tops vs bottoms

Whole outfits

Jewelry

Electronics

Toiletry & Cosmetic Kits

Laundry / Shoe Bags
Implementing packing accessories into my travel regime has

completely changed the game for me.

  My suitcase and bags have been transformed from a disheveled mess swimming with various items I can never seem to find, to organized and compartmentalized.

I always use clear bags, you can see everything from a glance. If you use opaque bags there's a good chance you will go a whole trip forgetting you packed useful items that would have come in handy if you had seen them.

Packing Cubes are amazing, I have them in different sizes and colors.  You can organize them in multiple ways:

Tops vs. Bottoms

Pack entire outfits together

Sporty vs Dressy

Toiletries vs. Accessories

Electronics vs. Outdoor Gear etc.

Some packing cubes are even expandable and collapsible so that you can hang them up as soon as you get to your lodging and make even more space in your suitcase.

This hanging toiletry kit

from Travelon is my absolute favorite and is the best I've seen so far for us gypsy diva's who tend to have A LOT of toiletries.

My favorite features are :

the clear compartments

the hanging capabilities

and especially these removable bags that are awesome to grab just your shower / post shower/ or bedtime supplies so that you don't have to drag around the whole kit and caboodle around unneccesarily.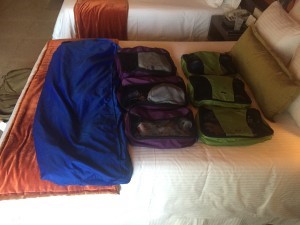 1-2 for each day

Minimize unnecessary items (Toiletries)

Take a picture
Write out your daily itinerary or at least a rough idea of the activities you're planning on doing, and plan complete outfits or variations for each day.

Try on each outfit, and take a picture of them so that it's easy to remember when the time comes.
CHOOSE OUTFITS YOU CAN MIX
& MATCH
Color Scheme

Outter Shell

Solids vs. Patterns
My strategy these days is that I always wear solid black bottoms, a solid black or grey jacket,  and colorful & / or patterned tops and accessories.

 I literally bring several variations of black bottoms that I know are comfortable and fit well.

Long black leggings + romper

Capri length black leggings + romper

Adjustable multi-way black skirt + top

Black yoga shorts / skort

Black sandals

Then I know for sure that whatever tops, jackets, or accessories I pack will match any of the bottoms I pack.

 Now, there is never an issue of running out of matching outfits.

The brand

Angelrox©

has amazing versatile outfits that can be worn in various ways, you can find them at WakenMake Shop.
CHOOSE MULTI-WAY & MULTI-
PURPOSE ITEMS
Examples:

Sarongs

Vests

Bandanas

Head Bands

Leg / Arm Warmers

Hoods

Reversible

Cinchable

Attachable

Adapters
I love versatile clothing and accessories, some of the favorite I have found so far are:

WakenMake So-right Sarongs…they're so right!  You can wear them so many ways and use them for so many things…

Leg & arm warmers, are great to throw in your bag rather than carry around a bulky jacket.

Here are a few of my other favorite multi-way get-ups and gadgets:

Multi-way Outfit Kit

Angelrox Wrap

Angelrox Romper

Angelrox Hourglass

Angelrox Wifey

Fairies Pyjamas Halter

I always wear a UV protective headband these days when I'm out in the sun…forehead wrinkles are real!

I also always rock my

Bandi Wear Pocket Belt

/ fanny pack when working out to store my phone, keys, and cash.

These adapters are great for saving space and covering all of my bases as well.
Acceptable in Various Situations

Casual & Durable Outdoors

Sophisticated Indoors

Travel Grade

Sleep-able

Low Maintenance

Wrinkle free

Won't Get Dirty Easily

Doesn't Require More Accessories (Electronics)

Re-usable

Weatherproof

Minimal Parts

Multi-Features

Features:

Weather resistant

High Performance

UV protection

Moisture Wicking

Quick-dry

Pockets

Collapsible

Attachable
These days you can easily find high performance clothing and brands that are not only durable, but they are comfortable and look good too.

I'm going to make sure that whatever articles of clothing or gear I bring will be able to provide me with as many of the features listed above as possible.

Portable Drying Line

Clips w/ Hooks

Dr. Bromner's Soap

Portable Washing Machine