This is a roadmap to Yacht Crew Jobs, and how to get hired even if you have no experience!  We'll go over what I believe is the easiest plan of action to implement in order to get hired as quickly as possible. While this strategy is likely to save you time, energy, and money, it is not the only way to land your first job. This is simply a compass to get you moving in the right direction. 
---
 YACHT CREW JOBS ROADMAP TOPICS:
The 2 Most Important Decisions to Make Before you Get Started

The 2 Best Times of Year to Look for Work

The 5 Best Ports in the World to Find Yacht Jobs 

Seasonal Yacht Job Opportunities and Trends Worldwide

How to Begin Creating Your Plan of Action

International Yacht Crew Resources 
After reading this post you will be able to begin creating a customized plan of action based on your own personal circumstances and desires. You can begin implementing this plan today, so you are one step closer to accomplishing your goal of getting hired to work on a yacht.
---
In The Yacht Job Handbook, I'll walk you through the entire process of getting a job on a yacht. I'm going to break down this process into a step-by-step formula that will serve as a roadmap to help fast-track your career so that you can start getting paid to live, work, and travel the world on a luxurious yacht.
THE 2 MOST IMPORTANT DECISIONS TO MAKE BEFORE YOU GET STARTED
Before you begin planning and coordinating your new adventure, you have 2 decisions to make that will determine every other action you need to take from this moment on, those are:
When are able to make the transition?

Which hiring port will you go to to get training and look for work?
Once you have answered these 2 questions, everything else will fall into place. However, these questions should not be taken lightly. You should plan strategically so you are at the right place at the right time when you are ready to begin job hunting. 
In order to do this we will go over a basic overview of the yachting industry including seasons, job trends, and the major hiring ports as they pertain to the yachting industry. These factors will determine the best plan of action for you, depending on what stage you are in your journey, and where in the world you are located. 
---
THE 2 BEST TIMES OF YEAR TO LOOK FOR A JOB ON A YACHT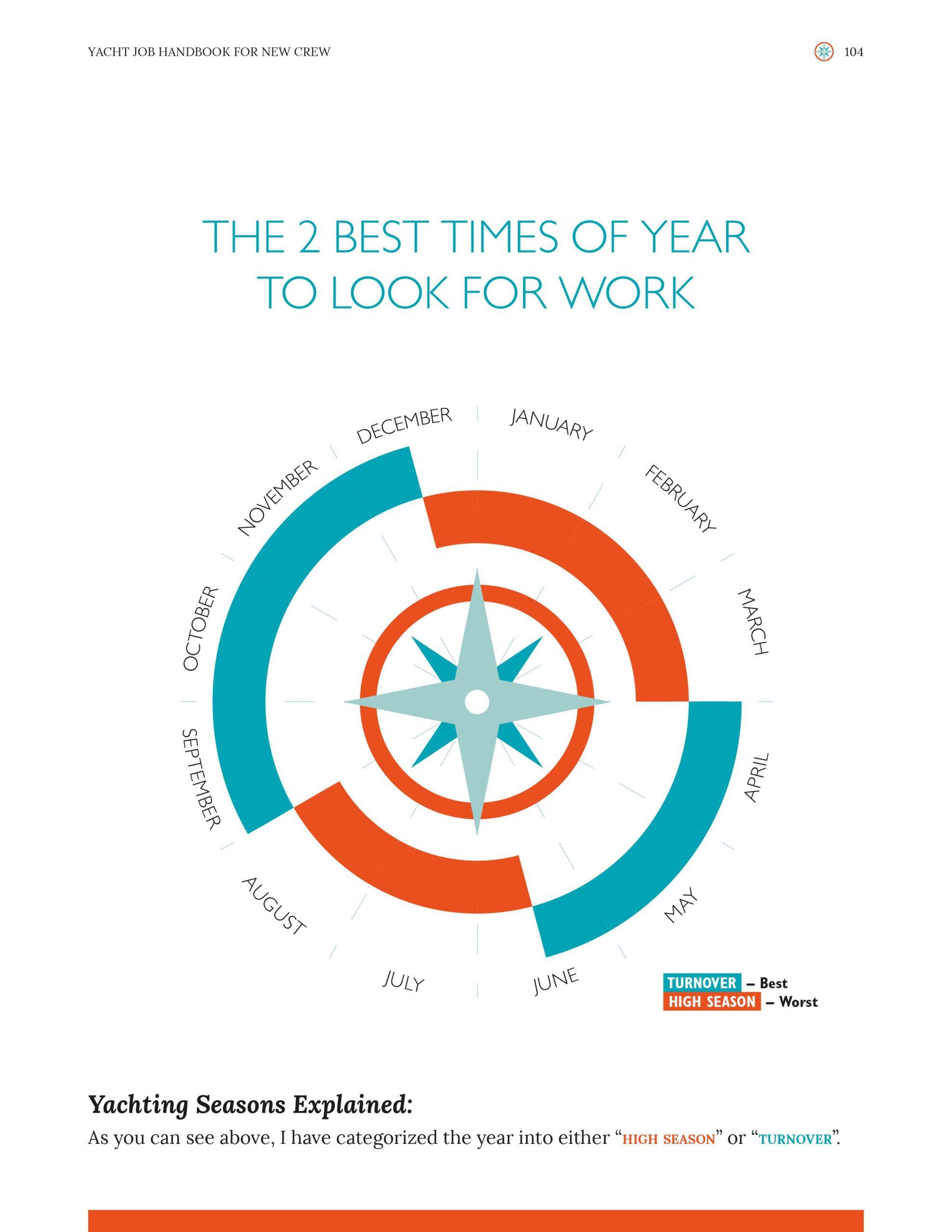 Yachting Seasons Explained: As you can see above, I have categorized the year into either "high season" (red,) or "turnover" (green.) 
During the 2 high season periods, yachts are generally on the move with a full crew and itinerary in place before they set off. While this is not the ideal time to be looking for work, it is certainly still possible to get hired. While there is a lower volume of job opportunities, there is also less competition.
On the other hand, the periods between the 2 high seasons are an ideal time to look for work because there tends to be a lot of turnover. Most boats will return to a major yachting hub for a couple of weeks or months to regroup after a busy season. Many crew are either taking time off, "jumping ship" (quitting,) or else they have completed their contracts and are off to spend their hard-earned money. So, for whatever reason, there tends to be a higher volume of job opportunities for new crew.
 Another good time to find work is right before and during a big event such as a boat show or regatta (race.) I have included a calendar with an extensive list of worldwide yachting events at the end of this section to give you some ideas. 
TIPS AND TRICKS
Book your training and lodging well in advance, as certain times of year may fill up more quickly than others.

Plan to relocate to the closest major hiring port at least a week or two

before

one of the turnover periods so you can be fully trained and able to work when the new crew are in high demand.
---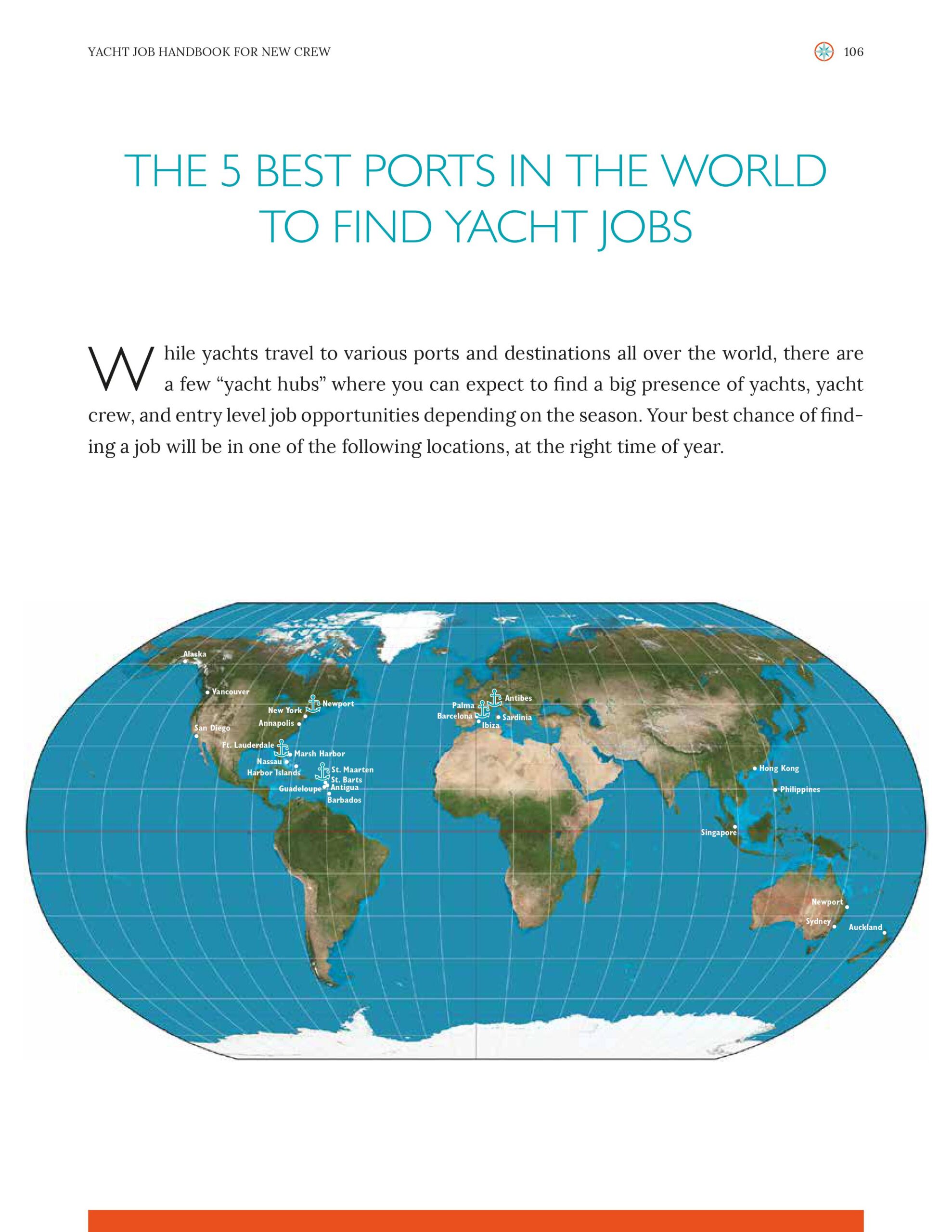 ---
Biggest Yacht Hubs in the World:
Ft. Lauderdale/Southern Florida

Newport, Rhode Island

Antibes, France 

Palma, De Mallorca

St. Maarten, Caribbean

Unfortunately due to Hurricane Irma, I wouldn't recommend going here anytime soon 🙁 

Antigua, Caribbean
---
Other Popular Yacht Destinations :
New York City, New York

Annapolis, Maryland

San Diego

Vancouver

Alaska*

Bahamas

Nassau

Marsh Harbor

Harbor Islands

Caribbean 

St Barts

Antigua

Barbados

Guadeloupe 

Europe

Ibiza

Barcelona, Spain

Sardinia

Asia

Singapore

Hong Kong

Philippines

Australia 

New Zealand
---
While these are some of the most well known international yachting destinations, there are countless ports all over the world where yachts are known to frequent and pass through. If you aren't able to relocate to one of the destinations above, do some research and try to find other locations that are more convenient and viable for you. 
SEASONAL YACHT JOB OPPORTUNITIES AND TRENDS WORLDWIDE
Yacht Migrational Patterns