A DivaDance Party is a great idea for bachelorette parties, birthdays, sororities, team-building, or a girl's night out in Charleston! We turn groups of best friends into dance teams with your favorite pop & hip-hop songs. We'll teach you easy-to-learn choreography for all levels, no professional dance experience necessary!
DIVADANCE PARTIES CHARLESTON
Swag. Strut. Slay.
Come with your crew and be prepared to let your hair down for an unforgettable experience, and an hour of pure fun!
Friends that #slay together, stay together. Plan an adult dance class for the ultimate birthday or bachelorette bash. Our party concierge will help finalize all details.
---
How it works:
 👯‍♀️ Gather your crew and decide if you want to dance together in-studio OR virtually via a private Zoom class
 📆 Reserve your date with our Party Concierge (you can even request the instructor you want!)
 🍾 Select your party package - our parties start at just $20 per person!
🎉 Lock in your party arrangements with a deposit. You can add more Divas before the party or change party details, and pay any additional charges at the party.
🎵 Choose your song - we have a fun list of holiday routine options OR pick from your favorites like Beyoncé, Lizzo, or Britney!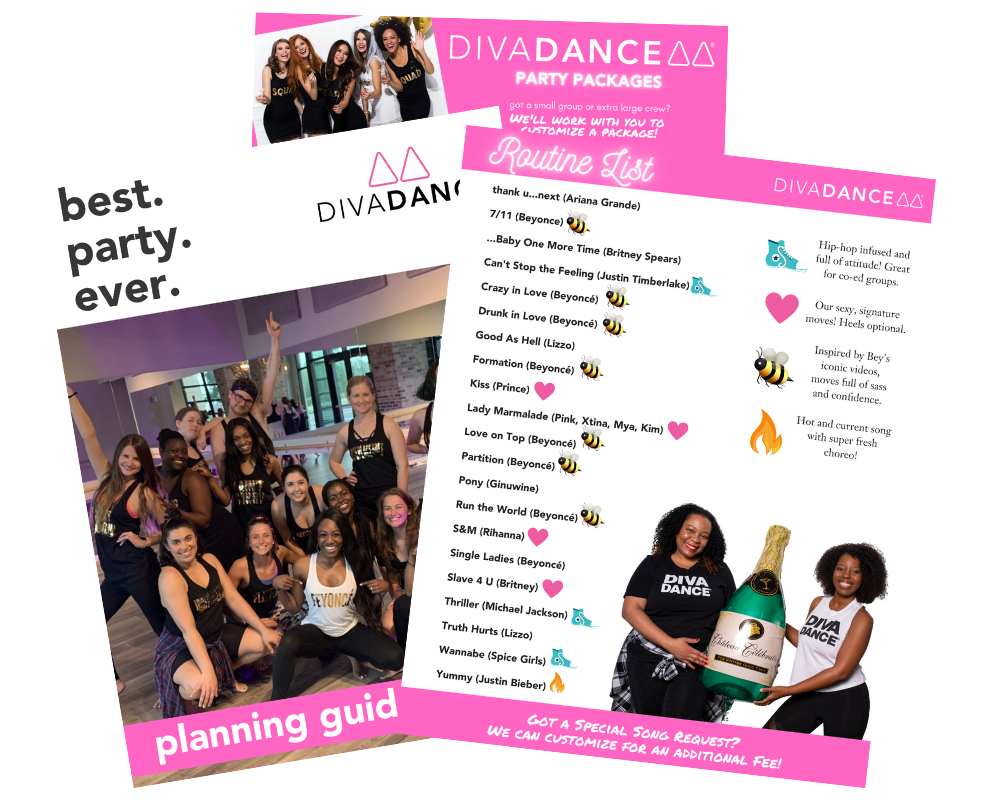 Our Party Planner has details about pricing, packages, AND the routine list so you can start thinking about which song your squad wants to slay to. There are also some frequently asked questions inside!
Check out our #FLAWLESS Google Reviews!
This was such a fun experience!! Baker Manning was the most enthusiastic and bubbly instructor and definitely MADE our bachelorette weekend so special! We had 7 girls go, and we did a dance to Partition by Beyonce!!  Definitely recommend making this a "to-do" on a girls weekend/getaway!!
This experience was SO MUCH FUN for one of my bestie's bach trip. We had so much fun and Baker was AMAZING!! 💖💖 10/10 would recommend!
The BEST dance class in Charleston!!! Baker hosted a moms night out for FIT4MOM Charleston, and it was full of laughs and even a surprising calorie burn! Baker was so responsive - available immediately via phone and text - and came up with a fun, energetic routine that we were allll able to perfect for a cute little music video. She made everyone feel comfortable, took photos and videos to send to us and even brought some bubbly to share 🥂 
The absolute BEST decision we made was having a dance class here for my bachelorette trip while we were in Charleston! Baker made the class so fun and the choreography was so easy to follow along and master! If you have doubts about booking just DO IT! You won't regret it! 🙂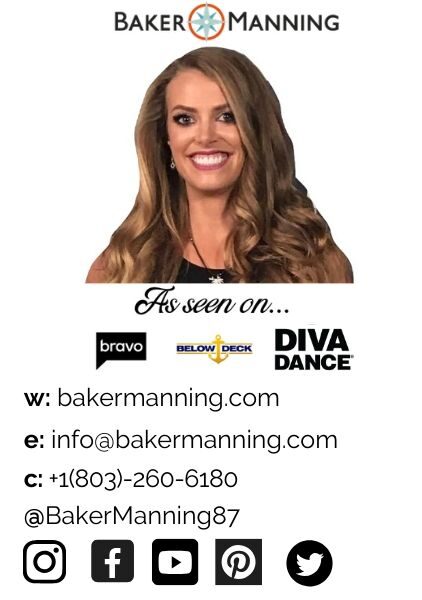 Need to chat? Text, call or email me with questions. When you're ready I can help you confirm your date, time, and location. No worries if you don't have a song or final squad count, we'll work it out along the way!
Baker
Party Coordinator, DivaDance® Parties - Charleston
803-260-6180 (call/text)
@DivaDancePartiesCHS