In this blog post, we'll guide you through King Street in Charleston SC: the best shops to check out during your visit, the top restaurants to dine at for brunch or dinner and some cool bars to hang out after dark!
King Street in Charleston, SC is a must-visit destination for any tourist. With its array of unique shops, top-notch restaurants, and bustling nightlife scene, there's no shortage of things to do on this iconic street. Whether you're visiting with friends or planning a bachelorette party weekend away, King Street has something for everyone.
What is the history of King Street in Charleston SC?
King Street is one of the most iconic streets in Charleston, SC. It has a rich history dating back to the 18th century when it was known as the "Great Street." Back then, it was the commercial hub of the city, with merchants and traders selling their wares along the bustling thoroughfare.
Over time, King Street evolved and became the go-to destination for shopping, dining, and entertainment. Today, it's a popular spot for tourists and locals alike, with an array of shops, restaurants, bars, and galleries lining the street.
If you're visiting Charleston, SC, King Street is a must-see destination. Whether you're looking for a unique shopping experience, a delicious meal, or a fun night out with friends, you're sure to find it on this historic street. So put on your walking shoes and explore all that King Street has to offer!
---
What are the main attractions on King Street in Charleston SC?
If you're visiting Charleston, SC, one of the must-visit spots is King Street. This bustling street is home to a variety of shops, bars, and restaurants that cater to all kinds of travelers. Whether you're here for a bachelorette party or just looking to explore the city, King Street has something for everyone.
One of the main draws of King Street is the shopping. You'll find everything from high-end boutiques to local art galleries, making it the perfect spot to pick up a unique souvenir or treat yourself to a designer purchase. Some of the top shopping destinations on King Street include the historic Charleston City Market, the upscale Shops at Belmond Charleston Place, and the trendy boutiques of Upper King Street.
If you're looking for a bite to eat, King Street won't disappoint. There are plenty of restaurants along the street, ranging from casual cafes to fine dining establishments. You can try classic Southern fare at Husk, indulge in fresh seafood at The Ordinary, or opt for international cuisine at places like Xiao Bao Biscuit or Basic Kitchen. And if you're here with a group, many of the restaurants offer private rooms or group dining options for bachelorette parties or other special occasions.
And of course, no trip to Charleston would be complete without a visit to the bars on King Street. There are plenty of options, whether you're looking for a dive bar, a rooftop lounge, or a trendy speakeasy.
---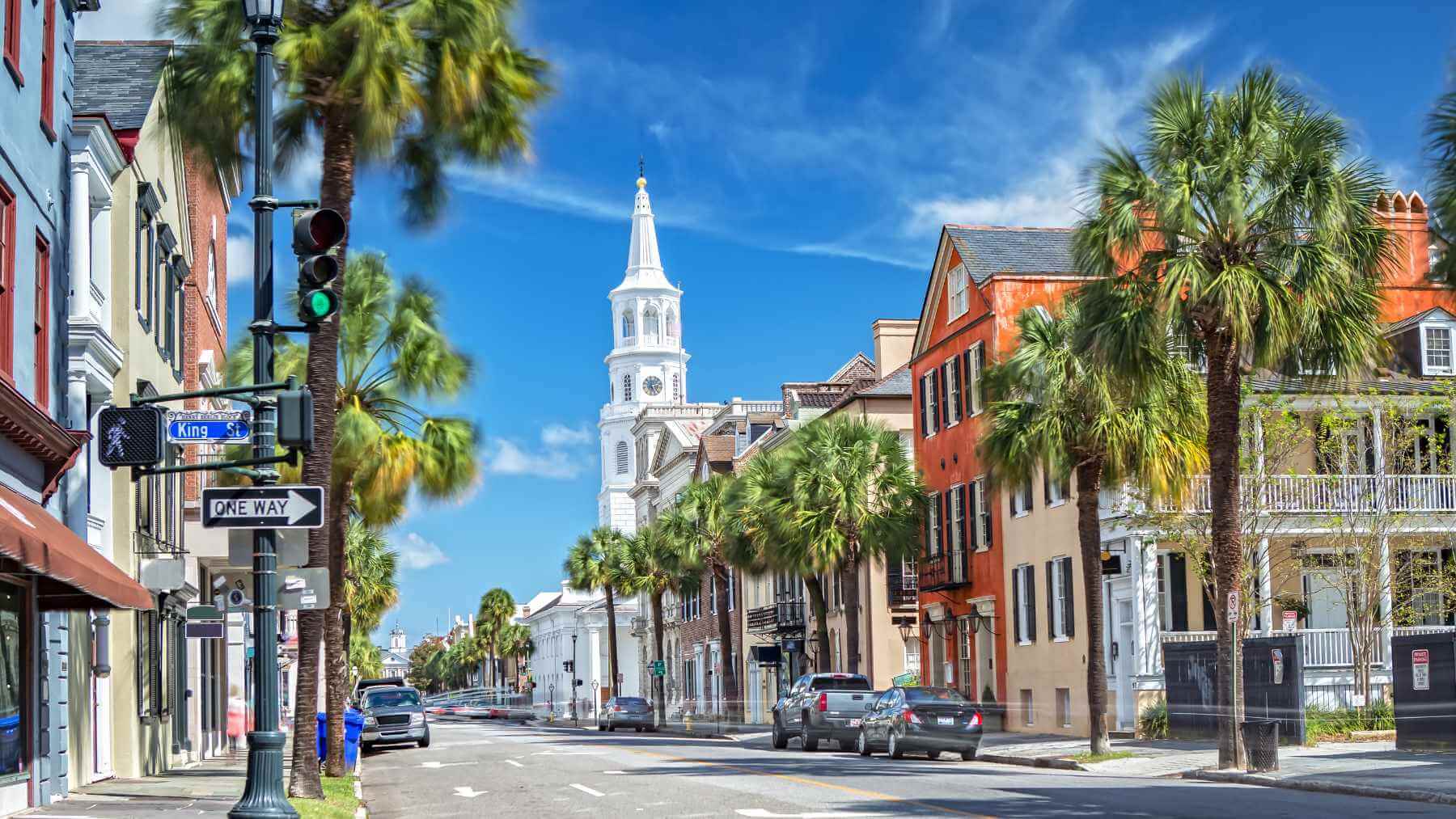 Best Shops on King Street
Looking for the best shops on King Street in Charleston, SC? Look no further! Start your shopping spree at the charming brick buildings of Finicky Filly and House of Sage. These boutiques offer a variety of fashions ranging from trendy to timeless pieces that are perfect for any occasion.
If you're interested in antiques and art, make sure to visit Robert Lange Studios and George C. Birlant & Co. These stores are filled with beautiful antiques and unique pieces of art that will add character to any home. After all this shopping, take a break and enjoy some delicious flavors at one of King Street's many dining options like Husk or The Darling Oyster Bar - both offering mouth-watering dishes with a southern flair!
---
Clothing and Accessories
If you're a fashion enthusiast, King Street in Charleston SC is a dream come true. Whether you're looking for vintage finds or high-end luxury items, this street has it all. Here are some must-visit spots for clothing and accessories:
Stop by Cavortress or Cannonborough Collective for unique vintage pieces that will make your outfit stand out.
Luxury Fashion Boutiques:
If you're in the mood to splurge, head over to Hampden Clothing or House of Sage for the latest designer fashions.
Get a taste of Charleston flavor with locally-made clothing and accessories at shops like Proud Mary Global Textiles and M. Dumas & Sons.
As you walk down King Street, take in the charming brick buildings and antique shops that line the street while grabbing a bite to eat at one of the many dining options along the way.
---
Home Decor and Gifts
Looking for unique and stylish home décor or gifts to take back from your Charleston trip? Look no further than the antique stores, artisanal gift shops, and interior design studios on King Street. These charming brick buildings house a variety of treasures that reflect the art, flavors, and fashions of Charleston.
Charleston's King Street is home to charming brick buildings filled with unique treasures, including antique stores like George C. Birlant & Co., where Civil War memorabilia and vintage silverware are found.
Shop for antiques at local favorites like George C. Birlant & Co., where you can find everything from vintage silverware to Civil War memorabilia. For one-of-a-kind gifts made by local artisans, check out Candlefish or A Signature Welcome. And if you're looking for inspiration to decorate your own home in true Southern style, visit Fritz Porter Design Collective or Indigo Home for stunning interiors curated by top designers.
---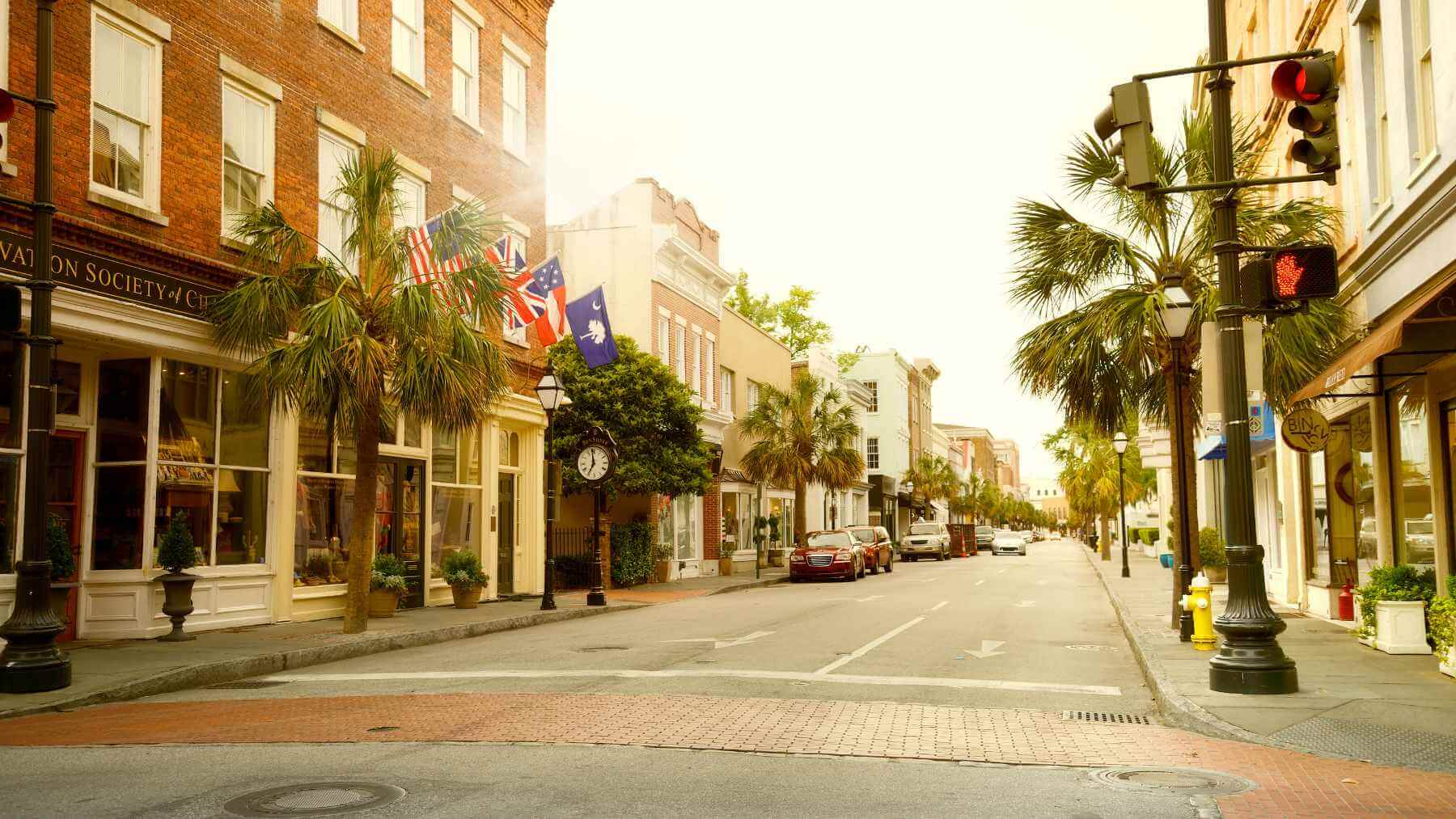 Top Restaurants on King Street
King Street in Charleston, SC has some of the best restaurants that offer delicious meals for brunch, lunch, and dinner. For a scrumptious brunch or lunch experience on King Street, head over to The Daily or Callie's Hot Little Biscuit. If you're looking for fine dining options for dinner with impeccable service and an extensive wine list, Halls Chophouse is the perfect place to go.
Another great spot for dinner is FIG where their menu boasts fresh seasonal dishes made from locally sourced ingredients. These restaurants are just a few of the many dining options available on King Street that will satisfy your appetite while enjoying your visit to Charleston.
Brunch and Lunch Spots
If you're looking for a cozy spot to grab a coffee, breakfast, or lunch on King Street in Charleston, The Daily is the perfect place. This local favorite has a relaxed atmosphere and serves up delicious sandwiches and salads as well as freshly brewed coffee.
For classic brunch favorites like biscuits, waffles, and pancakes head over to Millers All Day. You won't be disappointed with their hearty portions and quality ingredients that make for an unforgettable meal experience.
Lastly, Callie's Hot Little Biscuit is famous for its handmade biscuits of varying flavors that will leave your taste buds wanting more. Stop by this charming cafe for a quick bite or take some to-go on your walk down King Street.
Dinner and Fine Dining
FIG (Food Is Good) is a popular dinner spot that offers delicious local seafood dishes paired with creative cocktails. This restaurant has received rave reviews for its seasonal and sustainable menu, which features ingredients sourced from local farms and fishermen. Be sure to try their famous stuffed quail or seared grouper served with crispy brussel sprouts.
If you're in the mood for some fresh seafood, The Ordinary is the place to go. This upscale restaurant focuses on raw bar items such as oysters, clams, and shrimp but also serves full entrees like roasted swordfish or grilled octopus. Don't forget to pair your meal with one of their signature gin cocktails.
For those looking for traditional Southern cuisine made from locally sourced ingredients - Husk Restaurant is a must-visit! Their menu changes daily based on what's available at nearby farms so you can expect only the freshest produce and meats when dining here. You can't go wrong with any of their classic dishes such as fried chicken or shrimp & grits.
Other great places to dine in King Street include 5Church Charleston - an elegant steakhouse that also serves vegetarian options; Magnolias - known for its Lowcountry-inspired fare; and The Grocery - offering farm-to-table American cuisine along with craft beers and wines.
Whether you're looking for elegant fine dining or casual eats, King Street Charleston SC has got something for everyone!
---
Nightlife and Bars on King Street
Looking for a night out with your girls? King Street has got you covered! This bustling street in Charleston, SC is home to some of the best bars for bachelorette parties. Sip on delicious cocktails and dance the night away at hotspots like The Cocktail Club or Prohibition.
If live music and dancing are more your scene, head over to Music Farm or Trio Club. These venues offer a variety of genres from jazz to hip-hop and will have you grooving all night long. Don't miss out on the vibrant nightlife that King Street has to offer during your visit to Charleston, SC!
Best Bars for Bachelorette Parties
The Rooftop at The Vendue is the perfect location for a bachelorette party with its breathtaking views of Charleston's skyline. This rooftop bar offers a cozy atmosphere and an extensive selection of drinks that are sure to get the party started.
If you're looking for exceptional food and lively ambiance, Stars Rooftop & Grill Room is another great option. This venue boasts delicious cuisine and creative cocktails while providing an energetic atmosphere that will have your group dancing all night long.
For those who want a more intimate setting, Prohibition is ideal with its speakeasy-style ambiance combined with live music performances. It's perfect for celebrating the bride-to-be while sipping on prohibition-era-inspired cocktails in this nostalgic venue.
Live Music and Dancing Venues
Music lovers will find plenty to enjoy in the live music and dancing venues on King Street in Charleston, SC. One such venue is Music Farm, which offers a mix of national acts and local bands and DJs for an unforgettable night of dancing. The Commodore is another popular spot located right in the heart of King Street that features live performances ranging from jazz to electronic dance music. And for those looking for an energetic hotspot with regular DJ sets and nightly drink specials, Uptown Social is the place to be.
No matter what your musical taste or preferred vibe, you're sure to find something that suits your fancy on King Street. From swanky clubs specializing in EDM beats to gritty dive bars hosting indie rock shows, there's no shortage of options when it comes to catching some live tunes or busting a move on the dance floor during your visit to Charleston.
---
In conclusion, King Street in Charleston, SC, is a must-visit for tourists and bachelorette groups. With its diverse shopping, dining, and nightlife options, you will never run out of things to do and see.