This post is The Ultimate 2023 Guide to Charleston SC Nightlife and Bars.  It's geared towards Charleston bachelorette & bachelor parties, wedding parties, and other groups of travelers that want to know the best places in Charleston SC to eat, drink, party, and have a good time!
Charleston is a historic town with a drinking problem...Because there are so many great places to eat, drink, and party in Charleston it can be hard to choose a select few to go to in one single weekend... so I created a few categories and listed some of the top choices for Charleston Bachelorette Parties and groups depending on what your #squadgoals are.
Whether you want to know where to go for the best day-drinking vibes, live music, happy hour specials, or you're on the hunt for a rooftop bar with the best booze, brews, and views - Charleston can easily accommodate you & your crew!
8 CRUCIAL THINGS TO KNOW BEFORE PARTYING IN CHARLESTON SC.
Click the arrow to scroll to the right and browse our 2021 Charleston Bachelorette Party Planner.  To D/L this bundle for free enter your name and email below to gain instant access.
GOOGLE MAP OF THE 30 BEST BARS IN CHARLESTON
Click on this interactive Google Map to locate and view any of the best bars and nightlife in Charleston SC that are listed throughout this post.  You can select specific Charleston SC bars, clubs, and lounges to view more info about each one including their Google Business Listing pages, locations, reviews, business hours, etc.
---
12 BEST PLACES TO DRINK FOR YOUR CHARLESTON BACHELORETTE PARTY
The following bars and restaurants are the top places to drink for your Charleston Bachelorette Party no matter what the season or the reason is.  These are all-around good choices for any group & any time of day.  For more details about these 12 best places to drink for your Charleston SC Bachelorette Party explore the map above, or check out our  "2023 Go-To's" in the section below to read more about our favorite spots & featured bars for 2023.
"TOP 3 GO-TO'S FOR 2023" BEST PLACES TO DRINK FOR YOUR CHARLESTON BACHELORETTE PARTY
Mex 1 is the perfect surf-inspired beach bar whether you are coming in for dinner and drinks with friends, dancing it up to local live music or dropping in for one of the best Mexi-Cali brunches in town serving up the light, fresh flavors of the Baja Peninsula.
If you're trying to find a Charleston Bar & Restaurant that everyone in the group will love you can't go wrong with Mex 1 Coastal Cantina. Mex 1 is a surf-inspired beach bar with delicious fresh food, tasty margaritas & mixers, and a chill laid-back vibe that's perfect for your #Final Fiesta, or beach bachelorette party.  
Mex 1 has 3 different locations throughout Charleston, so there's bound to be one near you and your crew.  Whether you're looking for dinner and drinks, or some live local music to dance to they are happy to accommodate large groups.  You can drop in at any of their locations, but I suggest making a reservation ahead of time by >>clicking this link<<  (Be sure to ask about their Bachelorette Party Package!) 
6 BEST ROOFTOP BARS CHARLESTON SC
The Rooftop Bar at The Vendue
Stars Rooftop & Grill Room
The Cocktail Club
Pour Taproom: Charleston
Aqua Terrace Roof-Top Bar
Henry's On The Market
TOP LOCAL CHARLESTON BREWERIES, DISTILLERIES, AND WINERIES IN 2023
---
10 CHARLESTON BREWERIES SERVING ICE-COLD LOCAL BEERS
For more details about these 10 Local Charleston Breweries that are great to check out for your Bachelor or Bachelorette Party, explore the interactive Google map above.
---
6 LOCAL CHARLESTON SC DISTILLERIES YOU CAN TOUR, EXPLORE, AND POUR!  
For more details about these 6 Charleston Charleston Distilleries that are great to check out for your Charleston Bachelorette or Bachelor explore the interactive Google map above.
MAP OF TOP VENUES WITH LIVE MUSIC AND DANCE CLUBS IN CHARLESTON SC
---
15 VENUES THAT OFFER LIVE MUSIC IN CHARLESTON SOUTH CAROLINA 
For more details about these 15 Live Music Venues in Charleston SC explore the interactive Google map above.
Patriots Point Naval & Maritime Museum

North Charleston Riverfront Park

The Purple Buffalo

Tin Roof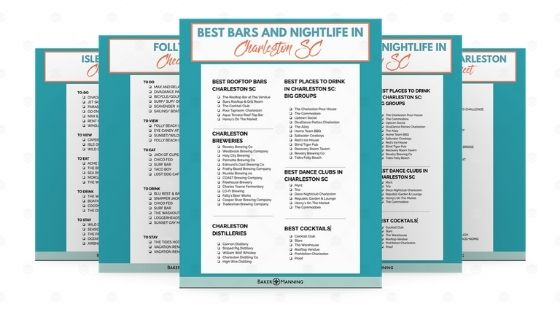 6 BEST DANCE CLUBS IN CHARLESTON SC
You'll find the highest concentration of Charleston nightlife, dance clubs, and late-night bars. in Downtown Charleston on Upper King Street, where you can stumble from bar to bar.  Just try to stay put once the clock strikes midnight because the lines get out of control after that.  Also-  all of the bars are closed by 2 am, so make sure you give yourself ample time after dinner to explore the Charleston nightlife scene.
Deco Nightclub Charleston
Republic Garden & Lounge

Uptown Social

Mynt (Closing Jan 2022 for a few months)
For more details about the 6 best dance clubs in Charleston SC for your Bachelorette Party, explore the interactive Google map above.
---
CHECK BACK SOON FOR MORE 2023 UPDATES!
Most of the Charleston SC Nightlife listed in this post are located on the downtown peninsula, but there are lots of great Charleston SC bars, restaurants, and venues in the surrounding areas as well.  I'll be sure to include additional sections highlighting other fun places to eat and drink in other areas near Downtown Charleston,  like The Charleston SC Beaches, Shem Creek, James Island, John's Island, Mount Pleasant, and North Charleston SC.
---
Have Fun Getting Down in ChuckTown!
I'll be sure to post a lot more details about Charleston Nightlife in the future, but for now, let this be a good starting point!  Don't forget to check out my Ultimate Guide to Slay Your Charleston SC Vacay for some more inspiration.
For low-key bachelorette party ideas, book a DivaDance Party!