This extensive guide breaks down how to plan an epic beach bachelorette party in 2022.  This guide is useful for anyone planning a bachelor or bachelorette party on the beach, no matter where you go.  I'm based out of Folly Beach SC, which is one of the top 3 beaches near Charleston, SC. As an avid beach goer and a Charleston local, I've got a lot of tips and tricks to help you slay your beach day or weekend vacay. By the end of this post, you'll be able to plan and execute a flawless and unforgettable beach bachelorette party.
---
DOWNLOAD OUR FREE  PRINTABLE CHARLESTON BACHELORETTE PARTY BUNDLE!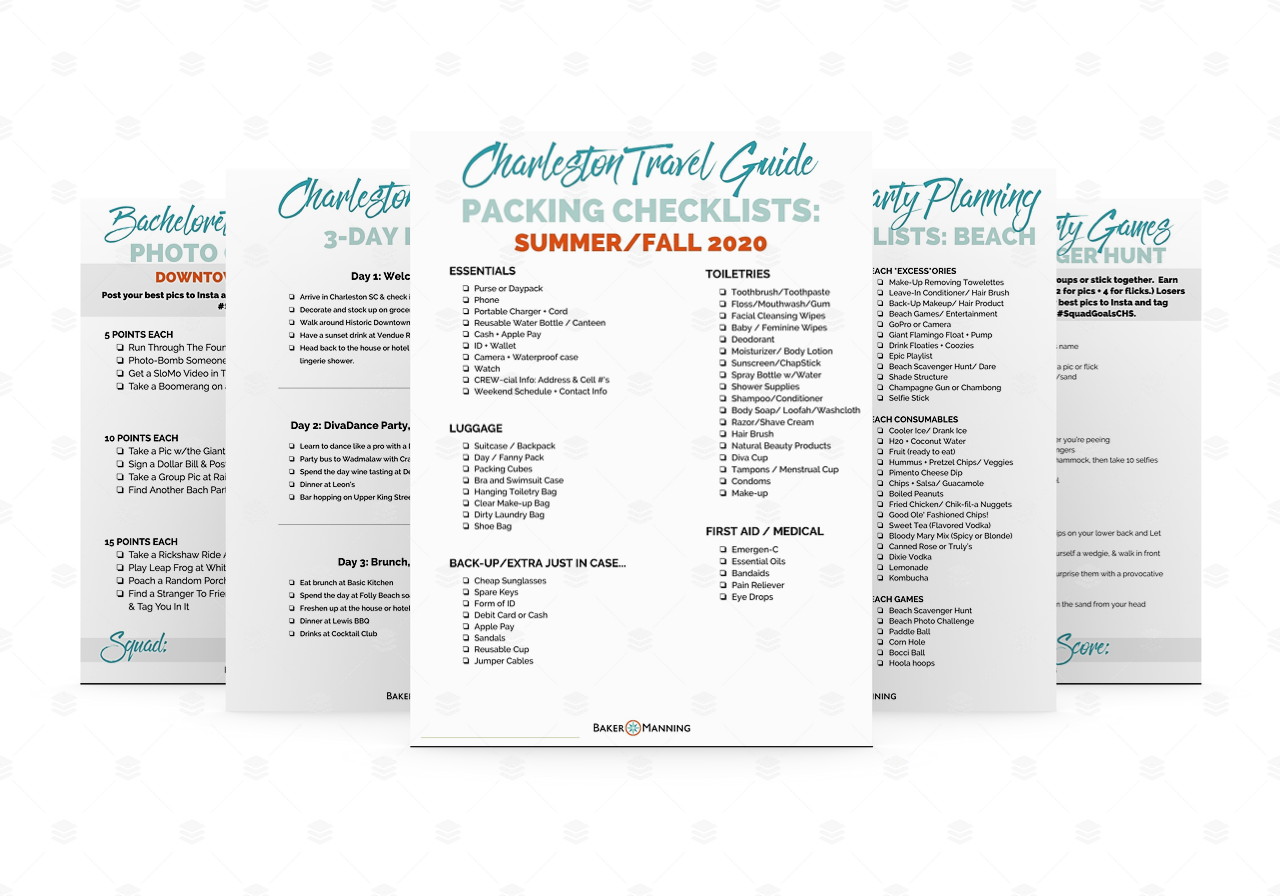 BEACH BACHELORETTE PARTY PLANNER & CHECKLIST
Kicking it on the Beach with a group of friends is one of the best ways to spend the day in Charleston, and not to mention it's the best hangover cure!  If you've never been to Charleston before you're probably overwhelmed by all of these tough decisions you have to make as you start to plan your trip like:
"What kind of beach gear do we need?"

"Can we Uber there?" 

And most importantly- "What color should our matching fanny packs be?!"
When you begin planning an epic day at the beach, you've got some decisions to make and actions to take to ensure that you and your crew have the best time possible.  First, you need to figure out the following:
WHAT TIME DO YOU WANT TO ARRIVE AT THE BEACH?
HOW WILL YOU GET TO THE BEACH AND BACK FROM YOUR RENTAL/HOTEL?
ARE YOU BRINGING BEACH GEAR OR RENTING?
WHAT OTHER ACTIVITIES DO YOU WANT TO DO AT THE BEACH?
HOW CAN YOU MAXIMIZE THE EPICNESS OF YOUR BEACH DAY?
WHAT CAN GO WRONG & HOW CAN YOU PREVENT IT? DIVAPROOF YOUR SQUAD!


---
DOWNLOAD THIS GUIDEBOOK FOR FREE! ENTER YOUR EMAIL FOR INSTANT ACCESS.
BEACH IT LIKE A BOSS: FOLLY BEACH BACHELORETTE
BOOK YOUR DIVADANCE PARTY NOW
Click the arrow to scroll to the right and browse our 2021 Charleston Bachelorette Party Planner.  To D/L this bundle for free enter your name and email below to gain instant access.
ULTIMATE PACKING CHECKLIST: BACHELORETTE PARTY AT THE BEACH
Chillaxin' on the beach is one of my favorite things to do.  In reality, you don't need anything but yourself, good company, and maybe some music to have a good time.   However, for all of my fellow #BeachDivas- there are several things you can bring to maximize the spectacularness of your beach day.  
When packing for a beach day or a weekend vacay, first you need to make sure you have the bare necessities necessary to survive covered. Then, if space and resources allow, it's time to bring on the accessories or should I say "excessories"  to thrive.  These are items that you could do without if you had to, but you should bring them if you can... 
Disclosure: Please note that some of the links above may be affiliate links, and at no additional cost to you, I earn a commission if you make a purchase. I recommend only products and companies I use and the income goes to keeping the site community-supported and ad-free.
BOOK YOUR DIVADANCE PARTY NOW
The ChuckTown LowDown is a brand new 2021 Charleston SC City Guide that's available for free!.  Here you'll find recommendations on places to stay, things to see and do, and where to eat in Charleston SC in 2021.  It's loaded with cheat sheets, itineraries, packing checklists, trip planners, budget tips, money-saving advice.  All of the info in this guide is short, sweet, and to the point!
---