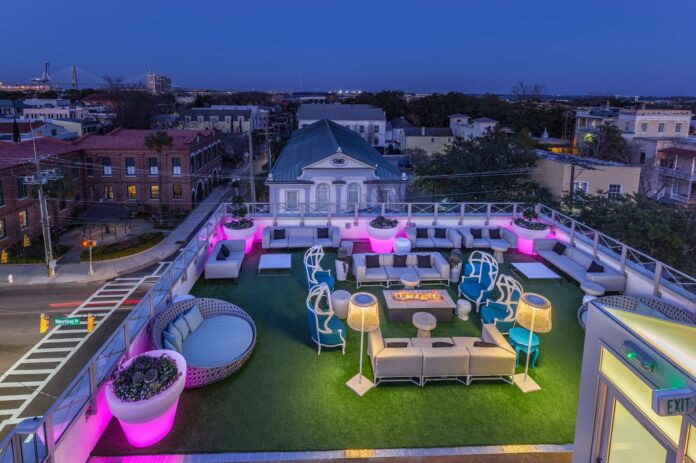 This post is your 2021 Rooftop Bar Charleston bucket list! I believe we all can agree that everything is better with a view! And in Charleston SC, we know all about mixing memorable views with fabulous drinks and foods. In this blog, I will give you the deets on all you need to know about #Chucktown's greatest rooftop venues. Besides – In the midst of a pandemic, what better COVID-friendly way to enjoy the Charleston breeze, than a rooftop experience.
---
---
BEST NIGHTLIFE AND ROOFTOP BARS IN CHARLESTON SC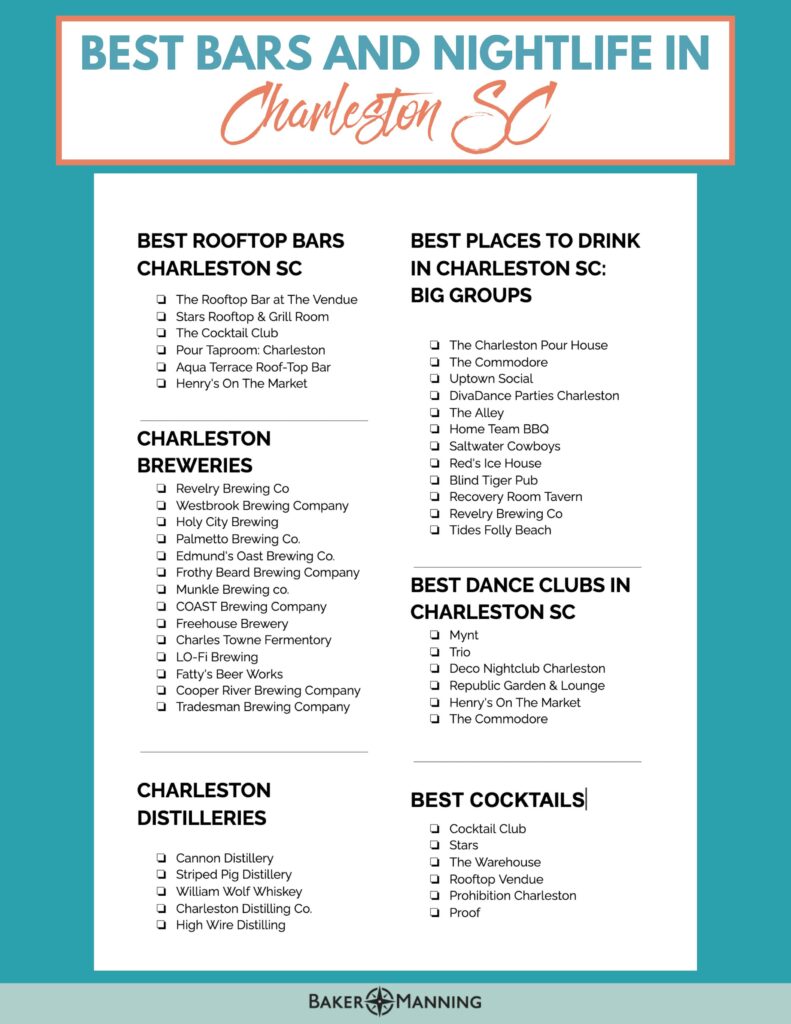 ---
INTERACTIVE GOOGLE MAP: BEST ROOFTOP BARS IN CHARLESTON
Click the icon at the top left corner of the map to expand the map & explore the roof top bar Charleston Bucket List!
---
YOUR 2021 ROOFTOP BAR CHARLESTON BUCKET LIST
Eleve Rooftop Restaurant & Lounge
Eleve Rooftop Restaurant & Lounge, located in the Grand Bohemian Hotel – Autograph Collection, rolls perfect location and atmospheric experience all in one. Eleve's rooftop garden showcases features of art-deco savvy esthetics. Giving you the option to select any divine dish off of their full service menu or to enjoy a refreshing cocktail as you lounge around the fireside. Oh! And did I mention all of their seafood selections are caught locally. Yes! Eleve fulfills your inner farm to table needs. Be sure to stop by – whether it be for breakfast, brunch, lunch, or dinner – every menu selection of Eleve's is indeed a perfect selection.
Join the Fun at Eleve – Click Here!
Aqua Terrace RoofTop Bar
Aqua Terrace RoofTop Bar provides you with two win-wins with the best views of the sunset and the riverside. Three wins, if you count the view of the marina! That's right! Aqua Terrace sets the tone of relaxation as you are overlooking Ashley River and the Marina in downtown Charleston.Their spacious outdoor bar is perfect for even the chilliest nights with space heaters and fire pits throughout their sky high patio. Be sure to enjoy the overall experience at Aqua's with live entertainment from local artists as well as regional performers. If you are looking for clever drinks, a mature crowd, and a sense of tranquility – Aqua Terrace RoofTop Bar is your go to spot!
Relax riverside at Aqua Terrace – Click Here!
Stars Rooftop & Grill Room
Stars Rooftop & Grill Room is known for their 360 degree view of Charleston and superb wood fire grilled menu selections. Experience dining and entertainment all in one as you are in the midst of all the action with Star's live exhibition kitchen and grill. Their 1930s inspired Carolina Cuisine paired with their wood design detailing throughout the establishment creates a cozy atmosphere. Do not be afraid to step out on a breezy evening as Star's will keep you warm with their various outdoor space heaters. And they're not just called Star's for nothing – Take a moment to enjoy the historic view of Charleston, but also take a view at the gleaming stars in the night's sky.
Enjoy Live Wood Fire Grilling at Star's – Click Here!
The Cocktail Club Charleston
The Cocktail Club's atmosphere will have you saying, "It's five o'clock somewhere" everyday! Their Happy Hour menu and live music entertainment is amongst many of the reasons to become a regular. And who doesn't love a knowledgeable bartender? The Cocktail Club's bartenders can whip you up a personalized cocktail in seconds, and for this reason, many have said they have had the best cocktails EVER here. If you are a Whiskey and/or Bourbon lover, their selection is one of the best. In addition, their subtle decor touches of refurbished beach pallets align with the "go with the flow" vibe. So, I say, grab you a whiskey and have a great time. You will not regret this local Chucktown terrace experience.
Test out the Bartenders knowledge at The Cocktail Club – Click Here!
Citrus Club at The Dewberry
Citrus Club at The Dewberry, located in Downtown Charleston, has it down packed when it comes to food, cocktails, wine, and beer. Don't be selfish! Bring your friends to enjoy the overall ambience with you. Citrus Club's decor will make you feel as if you are in a paradise. Sit back and relax as you converse over perfectly garnished drinks and admire the sunset. Keep in mind that it is first come, first serve. So, put on your best outfit, and make it out the door to Citrus Club because their rooftop terrace is not a vibe you want to miss.
Grab drink with your friends at Citrus Club – Click Here!
The Rooftop Bar at The Vendue
The Rooftop Bar at The Vendue, aka Charleston's Art Hotel, is located in the heart of the French Quarter. The Vendue is recognized as being the most iconic rooftop bar to visit in Charleston by the New York Times. The view of the skyline gets even better with just a few steps up to the second upper level. If you're feeling eclectic, be sure to grab a drink and browse around at The Vendues Art Gallery. With panoramic views of the city, great wines/ speciality cocktails, and tasty small plates options – this boutique bar is not one you'd want to miss.
Catch Panoramic Views at The Vendue – Click Here!
Whoa! Just imagine – these are just a few of Charleston SC's Rooftop Bars. Nonetheless, all of Chucktown's rooftop bars are amazing! So, I'd say, visit them all.
---
RELATED BLOG POSTS
---
CLICK BELOW FOR MY LATEST YOUTUBE VIDEOS