Folly Beach SC is not a "basic beach…" It's the top choice for your Charleston bachelor's or bachelorette beach bash! This guide is all about the Top 3 Charleston SC beaches that are great for a bachelorette party, and the 5 reasons Folly Beach SC is the best choice!
Getting salty, sweaty, sandy, and kicking it on the beach with a group of friends is one of the best ways to spend the day in Charleston, and not to mention it's the best hangover cure!  Whether your crew is up & at it w/some pep in your step, or y'all are struggling hard- going to the beach is an activity that can cater to almost any state of mind or being.
TOP THINGS TO DO IN FOLLY BEACH SC IN 2021
---
THE TOP 3 CHARLESTON SC BEACHES FOR A BACHELOR OR BACHELORETTE PARTY OR WEEKEND GETAWAY ARE:
1: Folly Beach

2: Sullivans Island

3: Isle of Palms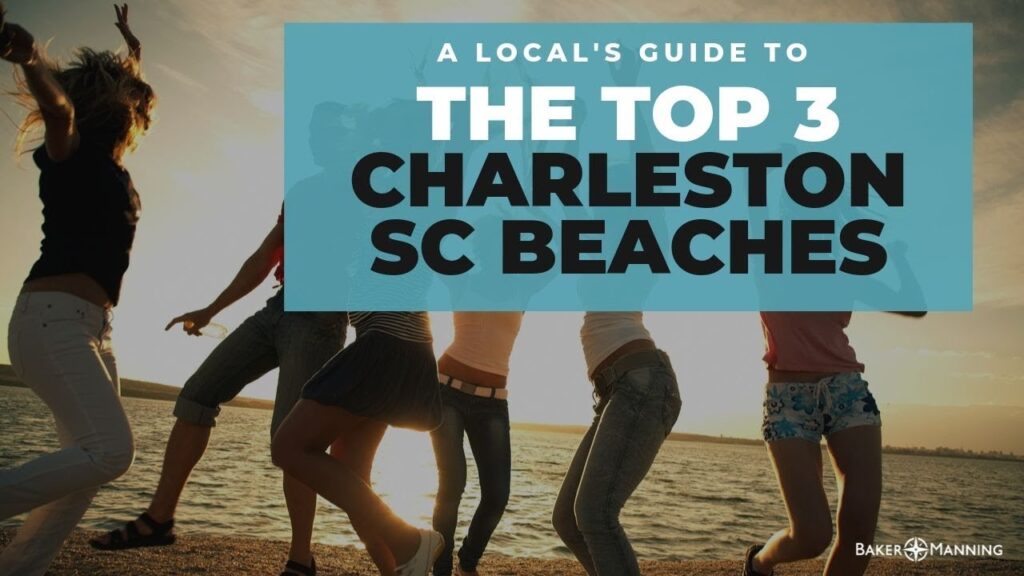 ---
WHICH VIBE IS RIGHT FOR YOUR TRIBE!?
Each of the Top 3 Charleston SC Beaches has its own unique vibe, so you can find the perfect spot for your squad.
FOLLY BEACH CHARLESTON SC IS NOT A "BASIC" BEACH
As I said, all of the beaches near Charleston SC are beautiful and unique, catering to a diverse group of beach-goers and travelers. BUT when it comes to a bachelor or bachelorette beach bash, my personal favorite and top choice is Folly Beach SC, without a doubt! If you'd like to learn more about each beach  >>CLICK HERE<< To view my Local's Guide to the Top Charleston SC Beaches.
Folly Beach has the best of all worlds- the party scene, the surf scene, a great town center with a lot of bars and restaurants, a tidal river that allows for boating and water activities, and it's all within walking distance to the pier.  I myself live on Folly Beach, so I may be a little partial... but I still think most locals would agree with me that it's the best beach for a Charleston bachelorette bash, bachelor party, or a big group weekend getaway- so I'll elaborate below.
---
5 REASONS FOLLY IS THE BEST BEACH FOR YOUR CHARLESTON SC BACHELORETTE OR BACHELOR BASH!  
1.  FOLLY BEACH SC IS NOT A #BASIC BEACH
First of all- Folly Beach is NACHO AVERAGE BEACH- OK!? It's one of the only beaches in Charleston that has halfway decent surf which attracts a big population of local surfers and travelers alike.

Surfing, young people, and partying go hand in hand, so along with the surf culture comes a lot of bars and restaurants to eager to wet your whistle and fill your belly.

Due to the geographic layout of the island & the Folly River, you can do lots of activities besides just straight beachin' it.

Some of the top things to do include paddleboarding, kayaking, or chartering a boat right on the river, renting bikes or even a golf cart.
Cruise the whole town and cover some ground- hit up Folly Beach Bike Rentals or even snag a golf cart and check out the Morris Island Lighthouse, and the Folly Beach County Park.
Go on a kayaking or paddle-boarding excursion with SUP Safari's to tone up that beach bod, or burn off that epic brunch!

So Folly Beach SC has a little somethin' somethin' for just about everyone- unless you're just not going to the beach cause it's "too sandy" in which case, you should just keep that to yourself.
2.  SCANTILY CLAD EYE CANDY
Speaking of sandy beaches- the phrase "don't bring sand to the beach" is very applicable to Folly- because there will be scantily clad sandy eye candy roaming around in every direction-
The high volume of good-looking beach-goers is one of the many reasons why this is the perfect beach for groups of people who are in the mood for booze, good times and tan lines.
3.  YOU CAN MAX AND RELAX, OR GET TURNT UP
Whether you prefer to splash around in the water, play games, or just max and relax in the sand, w/ a (concealed) drink in your hand, All y'all beachin' babes & bros should be capable of  having some fun in the sun… or at least take a siesta.
By the time you start to feel like you're getting a little burnt up- you and the crew can stumble into town to work on gettin' turnt' up, cause at  Folly Beach you've got dozens of places to eat and drink all within' walking distance to The Tides, Folly Beach.
4. FOLLY BEACH'S CENTER STREET IS PARTY FRIENDLY
As you cross the bridge onto Folly Beach, you'll cruise down Center Street. This area is the main drag of Folly where almost all of the shops, restaurants, and bars on the island are *centrally* located within a few blocks of each other.
 This little district is lined with a variety of establishments ranging from a relaxed & civilized atmosphere to a sweaty fist-pumping rage-fest, & everything in between…
Compared to the other top Charleston SC beaches, In my opinion-  Folly is the most "party friendly" option, where even the most ratchet baches might be able to fly under the radar if need be.
5. THE TIDES FOLLY BEACH
The focal point of Center Street, right next to the Folly Beach Pier is where you'll find The Tides Folly Beach Hotel, (or more importantly Blu Restaurant and Bar)- which is the only bar & oceanfront hotel on Folly Beach & one of the few in Charleston, period.
You should just plan to post up on the beach in front of The Tides Folly Beach from the get-go. It's in walking distance to all of the top attractions, bars, and restaurants on Folly Beach.
In between dips in the ocean, you can get your drank on at Blu where there's almost always live music or DJ's all day on the weekends in the summertime.
---
FOLLY BEACH 2022 TRAVEL RESOURCES
Scroll to the right to explore some useful Folly Beach travel resources such as google maps highlighting the top local businesses, nightlife, and things to do in 2022.  You'll also find suggested Folly Beach golf cart rentals and bicycle routes, The most Insta-worthy photo spots, custom local Folly Beach scavenger hunts, and packing checklists w/crucial things to bring for an epic beach day or boat charter.
Be sure to check out my post with The Top Activities, Nightlife, & Bars on Folly Beach for more info on the top things to do in 2022.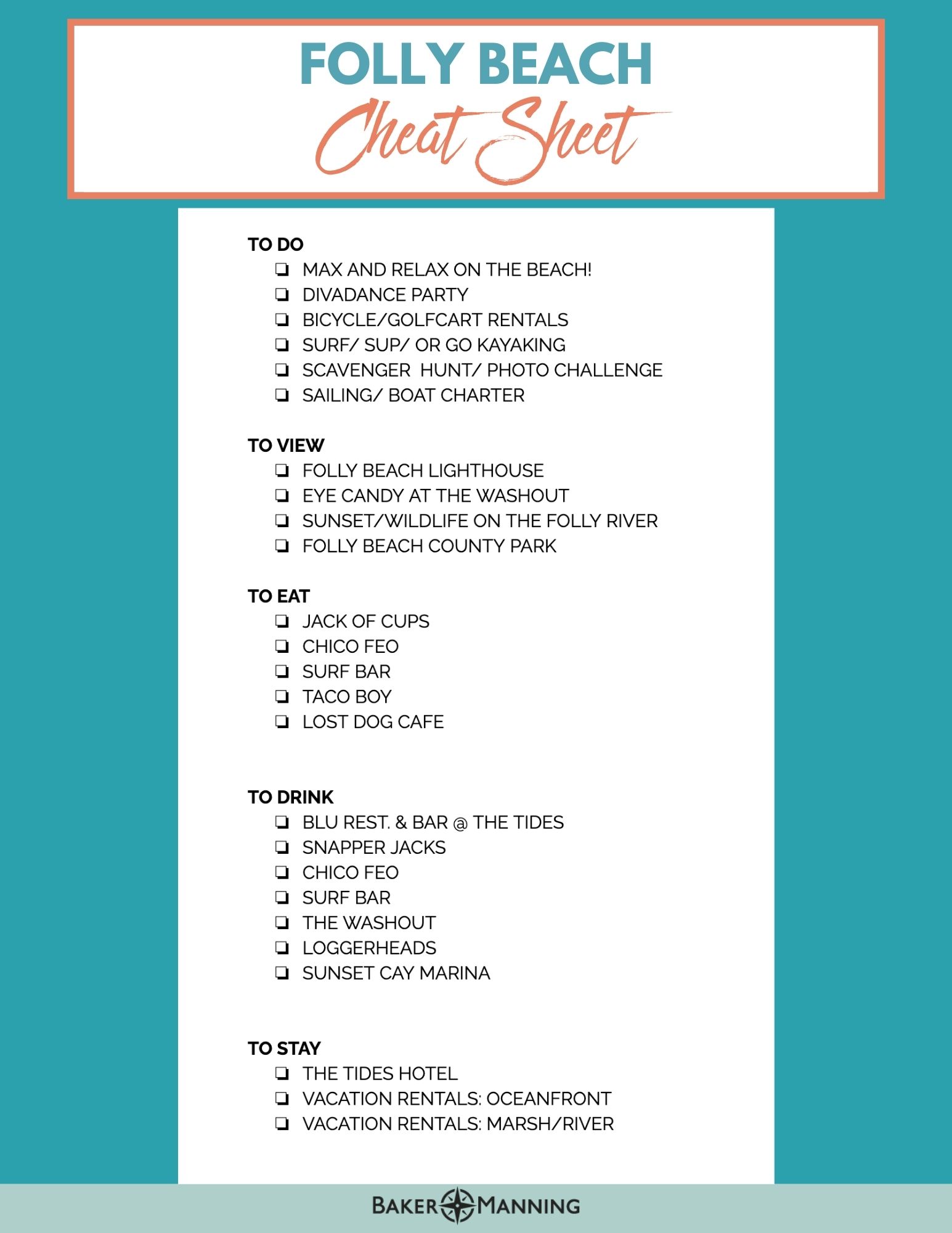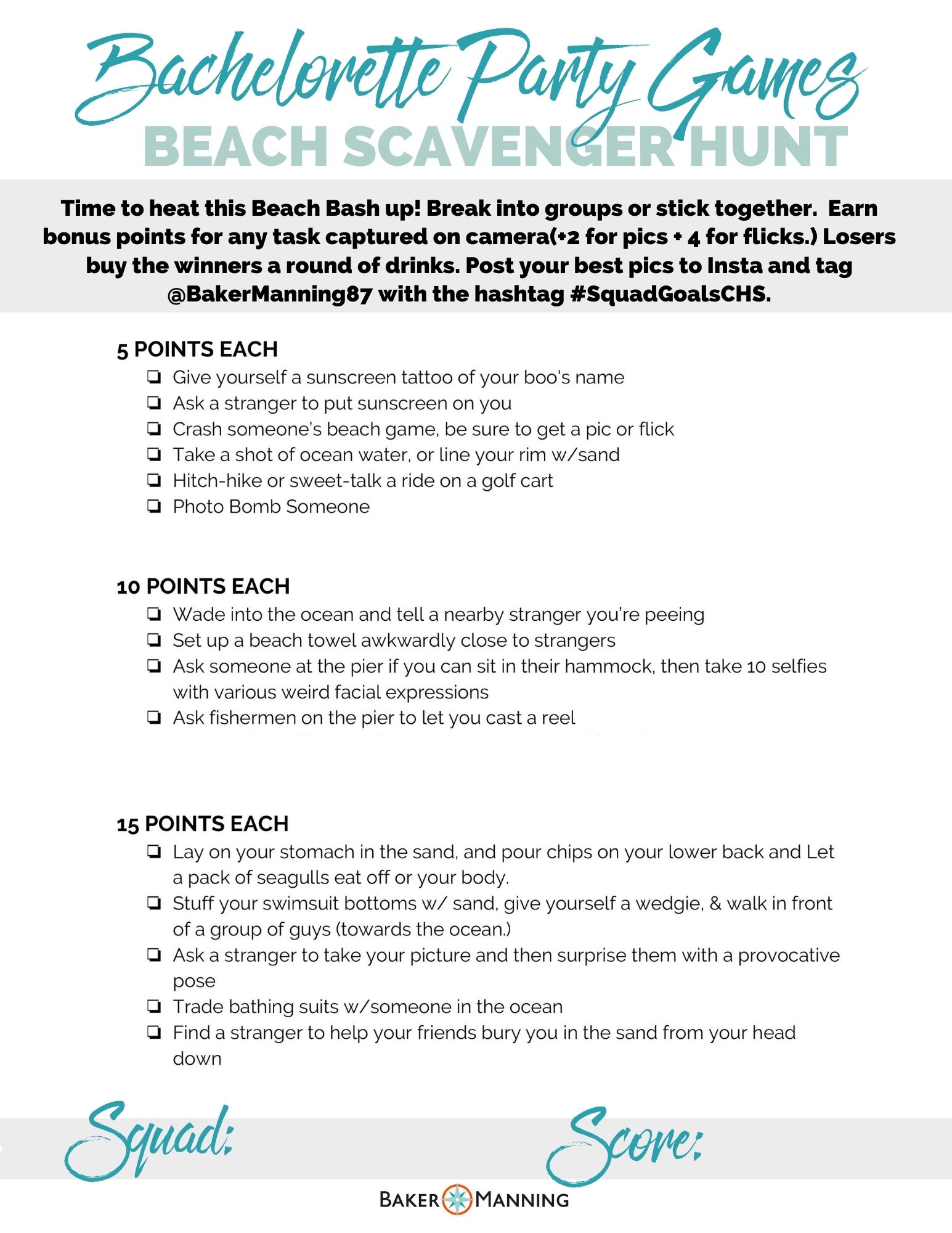 Below are some links to some of the most crucial things to bring to Folly Beach, or really any of the Charleston SC Beaches if you want to beach it like a #BOSS.  You can buy these items straight from Amazon or you could let Folly Beach Chair Co. set you up with all of the beach necessities!
Disclosure: Please note that some of the links above may be affiliate links, and at no additional cost to you, I earn a commission if you make a purchase. I recommend only products and companies I use and the income goes to keeping the site community-supported and ad-free.
The ChuckTown LowDown is a brand new 2021 Charleston SC City Guide that's available for free!.  Here you'll find recommendations on places to stay, things to see and do, and where to eat in Charleston SC in 2021.  It's loaded with cheat sheets, itineraries, packing checklists, trip planners, budget tips, money-saving advice.  All of the info in this guide is short, sweet, and to the point!
---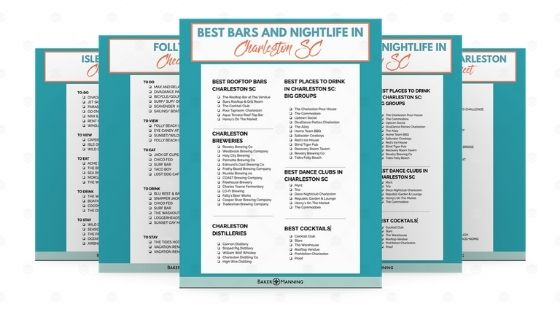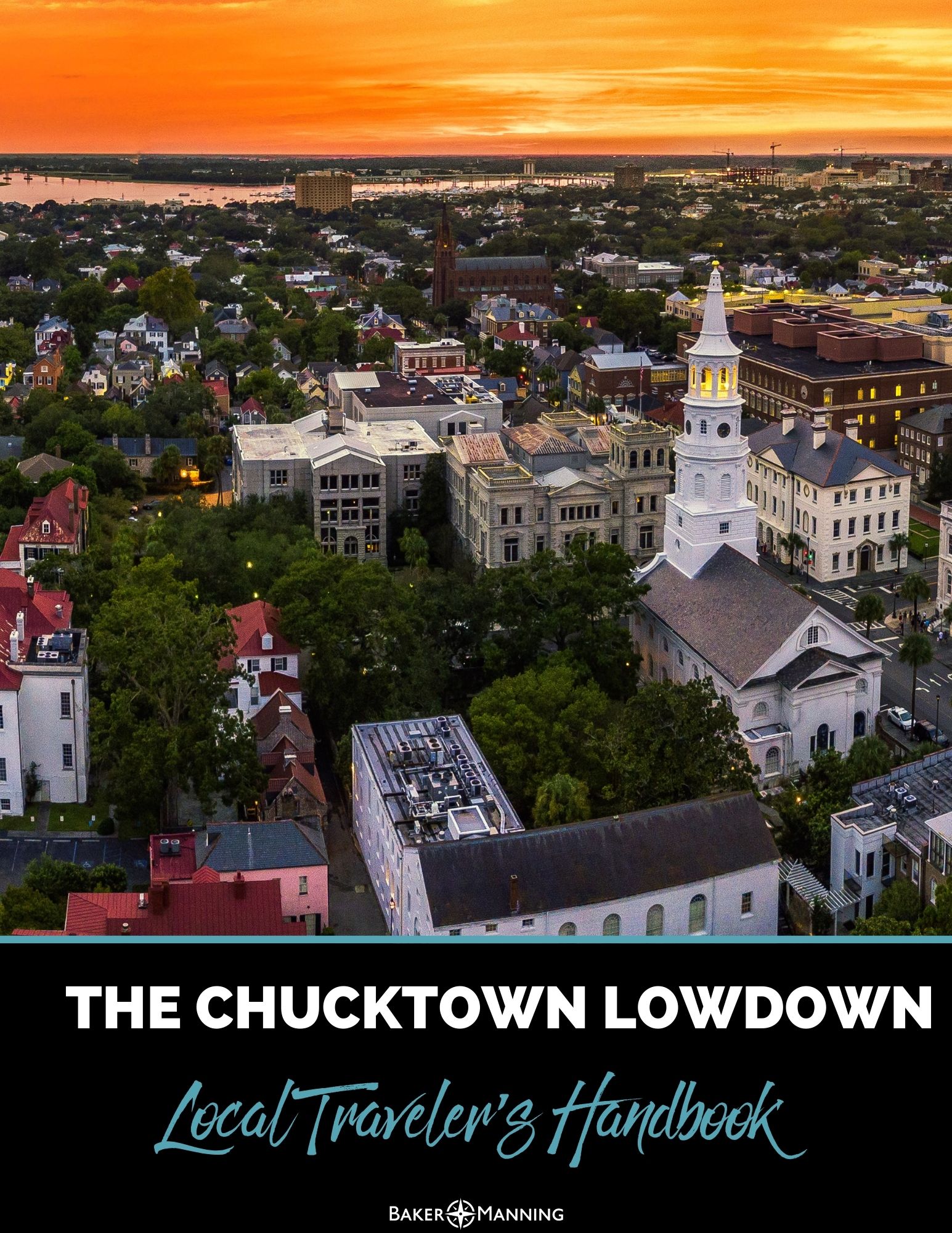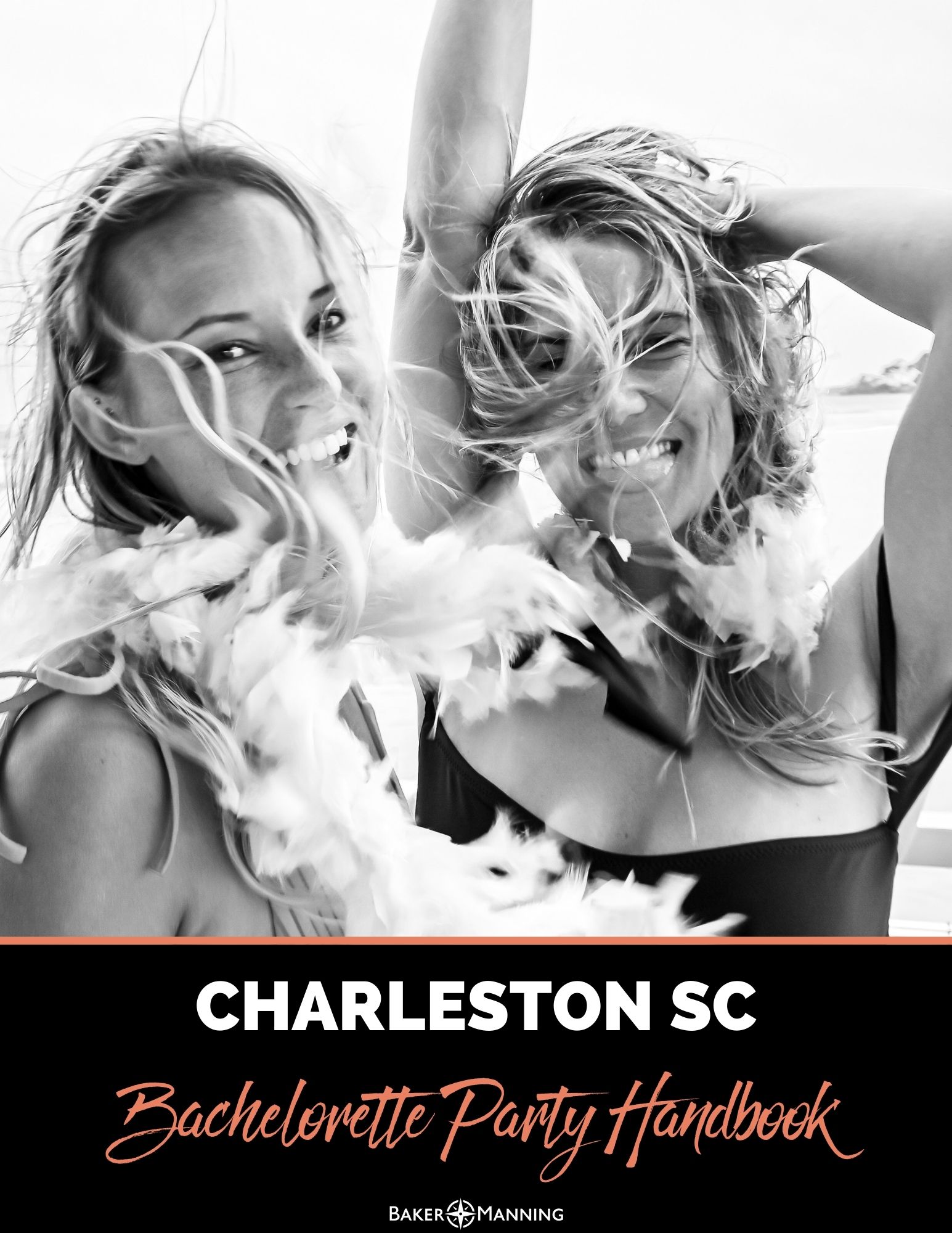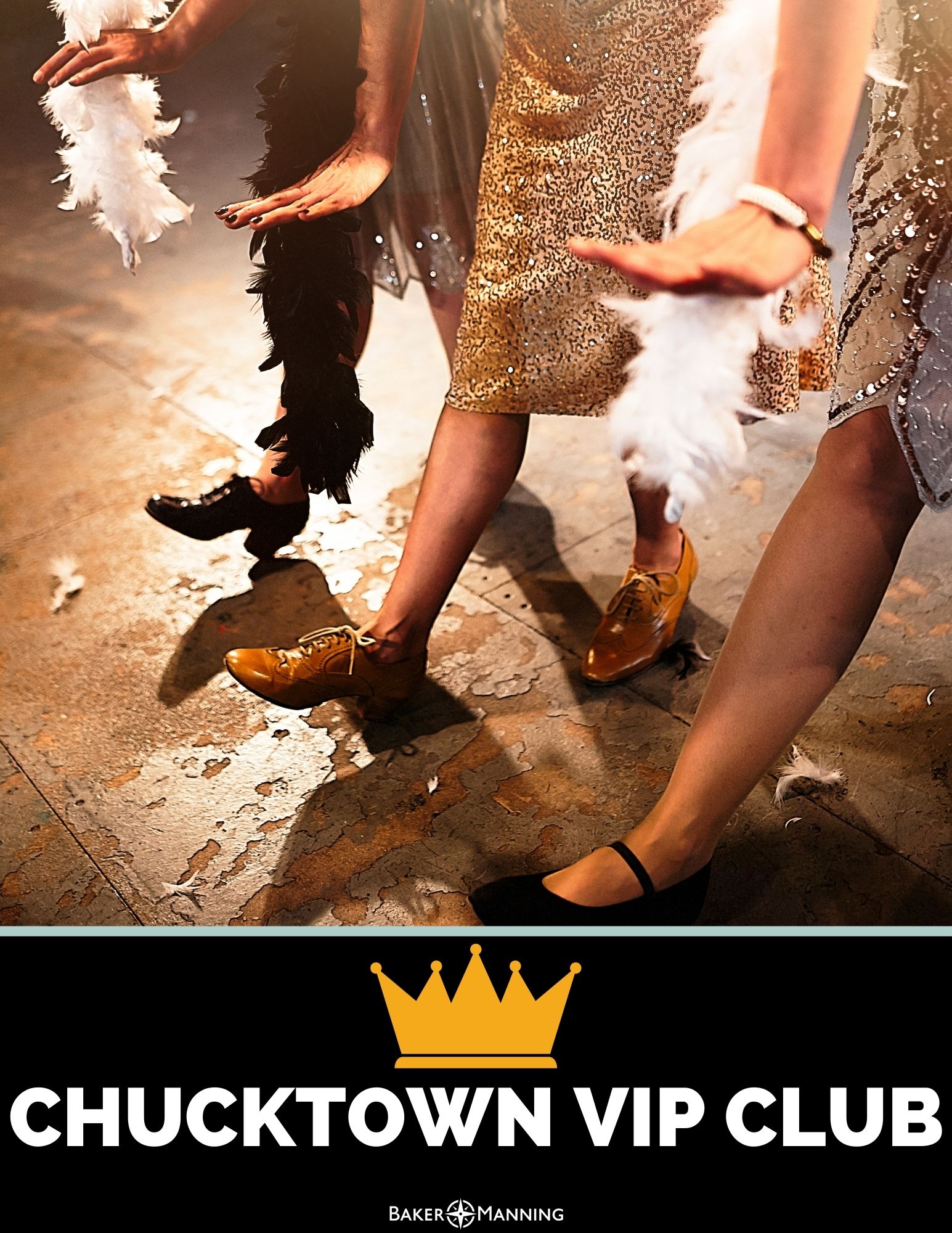 D/L MY CHARLESTON BACHELORETTE PLANNER AND TRAVEL GUIDE FOR FREE!