Below are 7 video tutorials with training and advice that you better watch before working on a yacht, especially if you are new to the yachting industry! Yacht jobs are not as glamorous as it may seem…
Yachtie Greenhorn Training is for all of you first timers out there who have never stepped foot on a yacht before.

In this section I'm going to break down and explain some of the entry level stewardess and deckhand tasks that you can expect to do during your first couple of weeks working on a yacht. While these tasks may sound simple enough, never overestimate a greenhorn!
THIS POST IS AN EXCERPT FROM "THE YACHT JOB HANDBOOK"
A step by step guide for new yacht crew.

Click Here to Check Out The Brand New Online Course!


YACHTIE GREENHORN TRAINING
When I refer to a "greenhorn" in this guide, I'm referring to someone who is completely clueless, like I was, when it comes to anything having to do with living and working on a yacht. When I was starting out, I was the GREEN QUEEN. You can read manuals and take courses all day, but it's not going to do you any good if you can't even open doors, turn on lights, or talk on your "walkie talkie."
In this section we will explore the following topics:
THE TAKE IT DOWN BREAK IT DOWN METHOD
10 COMMON MISTAKES THAT YACHTIE GREENHORNS MAKE
YACHT INDUSTRY TERMINOLOGY AND LINGO
NAVIGATING THROUGH A YACHT
WIPING SURFACES ON A YACHT
VACUUMING 101 FOR YACHTIES
ARRANGING PILLOWS AND TOWELS
STOCKING YACHT SUPPLIES
HOW TO DRY THE YACHT
YACHT WASH DOWN TECHNIQUES
YACHT CUSHIONS AND COVERS
HEADS & BEDS
TURNDOWNS
THINGS TO DO DURING DOWNTIME
FULL LIST OF NAUTICAL TERMS
---
OBJECTIVES
By watching and reading these quick tutorials you will:
Learn the proper boat terminology and lingo, and how to navigate through various sections of the boat
Gain an understanding of common tasks you'll likely be doing as a newbie, and learn techniques for how to do them effectively
Avoid getting fired or making embarrassing and costly mistakes that are common amongst yachtie greenhorns
Prevent potential damage to the yacht, yourself, or other yacht crew
---
*Disclaimer*
Every boat is different, and there are several ways to just about every task. Below I've written some descriptions of some of the more basic tasks that you are likely to encounter during your first few weeks on board. While this is how I do things, your boat may have a completely different way of doing them. Just follow instructions. However, these tips may at least point you in the right direction.
---
THIS POST IS AN EXCERPT FROM "THE YACHT JOB HANDBOOK"
A step by step guide for new crew.

Click Here to Learn About The Full Guide!

Learn How You Can Get Paid To Live, Work, and Travel the World On a Yacht
Get a free sample of The Yacht Job Handbook+ plus my most powerful resources for yacht crew delivered to your inbox.
YACHT INDUSTRY TERMINOLOGY AND LINGO
Moving onto a boat is almost like relocating to a foreign country in the sense that everything works a little bit differently, and everyone is speaking a different language. For any task at hand you will be given instructions on where to go and what to do, and at first, you'll be like… "I have no idea what any of that means."
One of the first things you should learn when you start living and working on a yacht full time is boating terminology and lingo. I don't want to overload you with too much information, so I'm just going to cover the basics that are pretty crucial at the beginning like the sections of the boat, and other standard terms you'll need to know.
---
YACHT EXTERIOR SECTIONS
HOW TO NAVIGATE AROUND A YACHT
Every boat has multiple doors, drawers, cabinets, and hatches, and each one has some way of latching itself shut and open. For someone who has never been on a yacht before opening things becomes quite perplexing.
Consider the boat "greenie proof," meaning, it's very difficult for yachtie greenhorns to easily navigate through the boat without assistance
Be careful that you are not too forceful when trying to open or close drawers, especially if you're not sure how they work. You don't want to start off on a bad note by breaking something expensive!
If you open something, always be sure to shut it all the way!
WIPING YACHT INTERIOR SURFACES
In a typical day, you may use like 20 different rags for 20 different things. You'll be wiping surfaces like it's your job… because it is.
---
To get the most out of your rag, I like to fold it in quarters.

Once one face gets dirty, you can move to another, just keep unfolding and folding, switching to a cleaner face of the rag.
DON'T use a dirty ass rag on a clean surface, that's very counterproductive.
If you're cleaning an area, and in that area is a really dirty section, and then a cleaner section, wipe down the clean part first so your rag stays clean longer.
I wipe in a circular motion.
I spray whatever cleaner I'm using directly on the rag, rather than on the surface.

For example, if you want to spray Windex on the window it may inadvertently end up all over the carpet, and over time will cause discoloration.

However, if you hold the rag close to the sprayer so that the cleaner doesn't get sprayed all over the place, you can prevent that from happening.
Don't mix rags and chemicals.

Always use the same one on wood with the wood cleaner; another for the granite with the granite cleaner, and one for glass, with the glass cleaner.

Hopefully your boat has color coordinated rags.
Don't leave a dirty rag sitting around on any nice surfaces, especially on fabrics. This can ruin them.
Use rags and towels to protect nice surfaces when you're working above or around them.

For example, if you're removing and reorganizing a locker that might have dirty items inside out on deck, always lay them on top of a towel, not directly on the deck or cover.

Same goes with polishing metal; lay your work tools on top of a protective surface.
---
HOW TO DO CUSHIONS AND COVERS ON A YACHT
Learn How You Can Get Paid To Live, Work, and Travel the World On a Yacht
Get a free sample of The Yacht Job Handbook+ plus my most powerful resources for yacht crew delivered to your inbox.
As an up and coming yachtie greenie, I was given the most mundane tasks, in which potential screw ups were limited. At first it seemed like a lot of the jobs I had to do were excessive and unnecessary. I thought, "Why on earth do we spend so much time drying the entire boat every single morning?" And, "Why do we cover every single cushion every single night!?" However, over time, I learned that there was actually a legitimate reason behind everything we did. I'll break it down for y'all in a language that a fellow greenhorn can understand.
---
THE TAKE IT DOWN / BREAK IT DOWN METHOD

Yachtie Greenie Training is structured around the following perceptions of how greenhorns learn, based on my own experience:
TAKE IT DOWN (TO A LEVEL THAT GREENHORNS CAN READILY UNDERSTAND)

We need a thorough explanation of what we're about to be doing even if it is the least bit complex… which is just about everything.

If necessary, explain to the person who's training you that it's best if they pretend as though they're teaching a 1st grader. Use very basic terms, and don't over load us with information that isn't crucial to the task at hand.

We suffer from information overload, and once we've reached our low threshold, our brains turn to mush, and our ability to retain knowledge diminishes.
BREAK IT DOWN

We need to understand the entire concept behind what we're doing, and why.

(Example) Drying the Boat:

Why is the boat wet every day?

Why do we dry it every day?

What happens if we don't? (Need visual examples!)

(Most importantly) What are all of the ways I could potentially screw this up?

Now we kind of understand our overall objective, and hopefully we'll be more effective.

We need a thorough demonstration on HOW to dry the boat, followed by our own practice (in front of the trainee).

Just watching someone else do it is not good enough, you need to practice it yourself, over and over again, it's all about repetition~
---
THE WAKE OF BAKE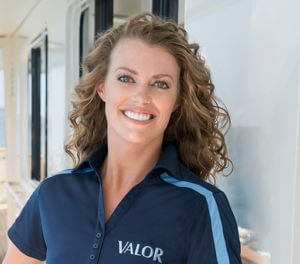 I'm a deckhand on Bravo's reality TV show Below Deck, and I'm also the creator of The Yacht Job Handbook. Read more about me here.
I created this website to give potential crew insight about what it's really like working on a yacht, and information and techniques to help increase their chances of getting a job as quickly as possible, and keeping it!
---
My first full time job on a yacht I was hired as a Deck/Stew, but as I've mentioned earlier, I knew nothing about boats, and at first, I think the guys on deck greatly overestimated my abilities…Either that or they were just screwing with me. They'd be like, "Baker, go grab the shammy mop from the aft starboard locker on the boat deck and then come down to the stern and dry the teak on the transom… and I'd be like…."whaaat?!!"
Even if by some tremendous feat, I knew what a shammy mop was, and where that locker was, the chances that I could OPEN the locker, would have been slim…
This is how it was for me every day… a series of tasks that left me utterly perplexed when I tried to execute them.
The good thing is, I know what it's like to start from scratch, knowing nothing. I CAN HELP YOU.
Other people don't realize that some of us need to take a step back before we can move forward. Before you start showing me how to rinse the bow, how about you teach me how to hook up the hose first, and then how to turn it on? (Oh apparently you don't "turn them on;" it's called "open the valve").
"Wait! do that again…one more time…OK let me try."
---