This post explores 5 popular Charleston Boutique Hotels that you and your crew should check out in 2021.  These popular boutique hotels are located in Downtown Charleston SC, and are walking distance to Upper King St. and the Charleston historic district.  These options are great for bachelor/bachelorette parties and big groups who want to be near the nightlife, restaurants, bars, and shops in the heart of Downtown.
So, you've decided to host a bachelorette bash in #Chucktown, and now you're looking for the best places to stay in Charleston SC for your trip!? Great choice! Let's look at some of the top boutique hotels Charleston SC has to offer!
5 Popular Charleston Boutique Hotels in 2021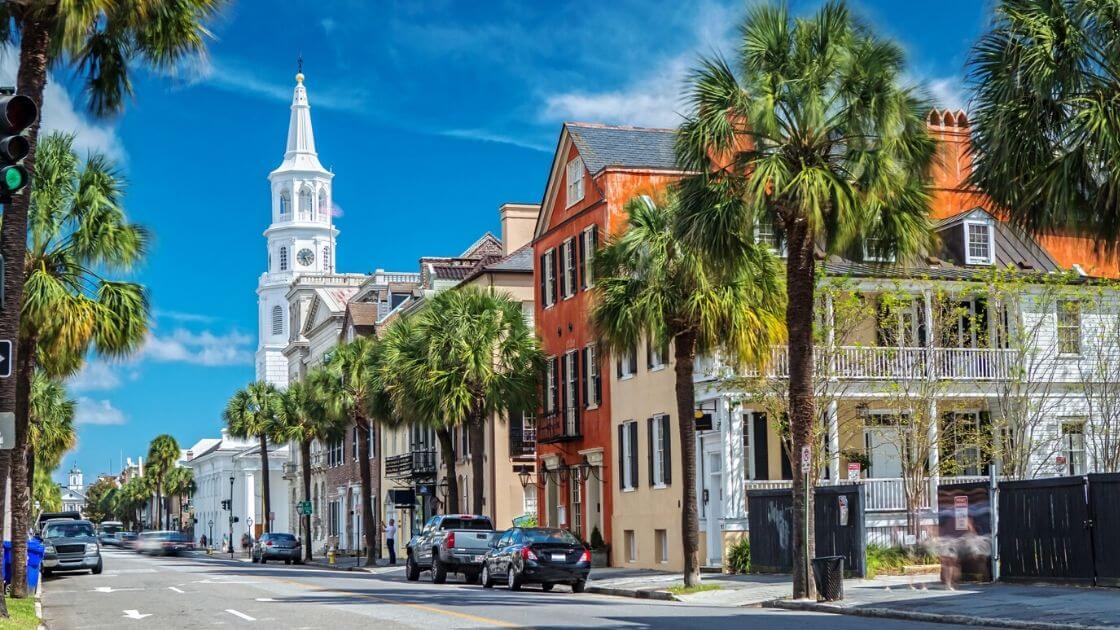 Whether you intend to spend your time sipping or sunbathing, you'll find no shortage of things to keep you and the bride tribe busy in this historic town.  So round up the troops and start planning! Here's your guide to the best boutique hotels Charleston SC has to offer in 2021.  These hotels in Downtown Charleston are great places to stay during your SC Bachelor/Bachelorette Party or Weekend Getaway.
---
5 of the Best Boutique Hotels Charleston SC Offers in 2021
When you're looking for the perfect place to spend some time with the gals before the all-important wedding day, downtown Charleston has plenty of options.
Charleston offers plenty of top-rated hotels as well as vacation rental properties.  Charleston SC Airbnb and VRBO have countless accommodation options to choose from. Be sure to check beforehand that the one you choose allows events and party bookings.
Another top priority for a bachelorette weekend away is the location. You don't want to be driving around for hours waiting to get the party started. These are some of the top choices that tick all these boxes.
---
Hotel Bennett Charleston
This brand new hotel is for you BOUJEE babes!  It's in the heart of downtown Charleston, so it's walking distance to everything.  It's super swanky and fancy, so if you want to be pampered in style, and money ain't a thang, this is your spot! This is one of the top boutique hotels Charleston SC has to offer for bachelorette parties!
---
The Dewberry Charleston
This is another new hotel in downtown Charleston SC that's great for bachelor/bachelorette parties!  A luxury hotel in the heart of downtown Charleston, The Dewberry borders historic Marion Square and is just steps from shopping and dining on King Street.  It's also located right in the heart of the downtown peninsula, where the best Charleston bars and nightlife are located.
---
The Mills House Wyndham Grand Hotel
This lovely 4-star hotel is the perfect shade of pink for a girlie weekend. It's also close to the ocean too if you're planning a beach bachelorette bash. You'll find shops, restaurants, and all of historic Downtown Charleston's attractions within easy reach.
If you fancy a swish meal during your stay, the onsite Barbadoes room is a delight. Here you can enjoy delicious creative dishes made from the freshest seasonal ingredients.
The Mills House Wyndham Grand Hotel is the perfect place for you and your besties to enjoy pampering solitude for a few days or head out for a party on the town.
---
Hyatt Place Charleston on King Street
If you're planning to go all out on a luxury getaway for the girls, this is one of the best places to stay in Charleston SC.
This contemporary hotel is the epitome of sophisticated style. It's walking distance from all the main attractions in historic Charleston as well as a host of restaurants and bars.
The rooms accommodate up to 3 guests and have luxurious en-suite bathrooms, spacious living areas, and kitchens, although breakfast's included in the rate.
This award-winning hotel has a TripAdvisor certificate of excellence and is a wonderful place to unwind in luxury or get ready for a big night out.
---
Elliot House Inn
This delightful historic hotel welcomes group bookings and is smack bang in the middle of the downtown action. There are 26 beautifully equipped rooms and lovely outdoor spaces for relaxing with a glass of wine.
You'll find plenty of shops and restaurants within walking distance and historic tour pick-ups stop right outside your door. The daily cheese and wine get-togethers are a treat.
---
Planning a Charleston Bachelorette Party
With beaches, top restaurants, and bars as well as a pumping nightlife, Charleston is the perfect place to host the ultimate bachelorette party weekend.
Between Charleston SC Airbnb, VRBO, and this list of the top 5 boutique hotels Charleston SC has to offer, you'll find no shortage of places to stay in Charleston SC. You can download my Charleston SC bachelorette guide to help you plan an unforgettable weekend away with your closest friends.
---
CHARLESTON SC AIRBNB VS HOTELS... WHICH SHOULD YOU BOOK!?