This post is the ultimate local guide to Charleston SC beaches, so you can decide which of the beaches near Charleston SC is the best one for you and your crew to visit.  The Top 3 Charleston SC Beaches are Folly Beach, Sullivan's Island, and Isle of Palms. Throughout this guide, I'll describe the unique vibe of each beach, and I'll give you great resources and recommendations including top things to do and see, and best places to eat and drink at each location.  At the bottom of the post, I've included lots of crucial information to know before you go to the beach, as well as a list of things you should bring, and links to great local resources so that you can plan the best beach day ever!
Whether you're looking for the perfect destination for your family vacation, a weekend getaway with a group of friends, or something romantic and relaxing for couples, this guide will point you in the right direction! Be sure to check out my 2019 Charleston SC Bachelorette & Bachelor Party Guide if you need travel ideas for a big group!
---
COVID UPDATE: CRUCIAL INFO ABOUT CHARLESTON SC BEACHES
Each beach has it's own unique vibe, so you can find the perfect spot for your squad. In my opinion, Folly Beach is more geared towards young people who are looking to get their drink on, whereas Isle of Palms is more family oriented, and Sullivan's Island is somewhere in between. — but my personal favorite and top choice for a big group is Folly Beach SC!  
---
TOP 3 CHARLESTON SC BEACHES FOR BACHELORETTE PARTIES AND GROUPS
TOP THINGS TO DO IN CHARLESTON SC: ADVENTURE, PARTY, LIFESTYLE.
FOLLY BEACH CHARLESTON SC

SULLIVAN'S ISLAND CHARLESTON SC
Sullivan's Island is more of a laid back, family friendly beach.  Sullivan's Island Public Beach is located only 9 miles from historic downtown Charleston.  There are not really any waves along the oceanfront on this barrier island, but there are miles of pristine coastline that make it one of the most popular destinations for windsurfing and kiteboarding in the south east.  On a windy day head to Station 28 St. and there is a good chance you will see dozens of windsurfers and kiteboarders zipping along the shore.
Of the Top 3 Charleston SC Beaches, Isle of Palms (AKA IOP) is definitely the most boujee and family-friendly beach with really strict police. IOP is also the farthest distance from downtown historic Charleston- about 17 miles- (usually at least a 25-30 minute drive without traffic.)  However, the Windjammer can be fun, and the Wild Dunes Resort has a great spa, golf course, and an outdoor pool.
8 THINGS YOU NEED TO KNOW BEFORE YOU GO TO ANY OF THE CHARLESTON SC BEACHES
 Here is some advice on the following topics to help you choose which Charleston SC Beach to go to. Click to view more info.
LEARN MORE ABOUT FOLLY BEACH SC
Ready to find out more?
Check out my YouTube Channel!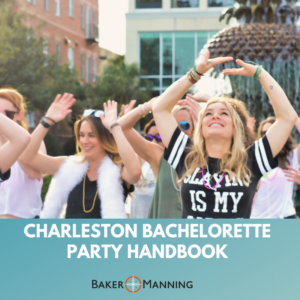 This blog post is derived from The Bachelorette Party Planning Series, an extensive and free digital guide that I created to help you and your crew plan an unforgettable trip to Charleston SC for any occasion --Whether it's a bachelorette party, birthday party, girls weekend getaway, wedding... divorce... I'll help you every step of the way!